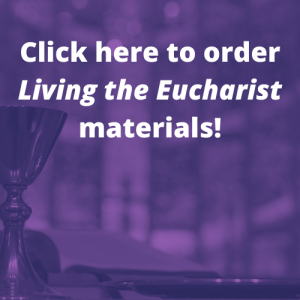 Living the Eucharist is a dynamic, parish-based program designed to help revitalize parish life and mission through a more profound experience of Sunday Mass. It helps the entire parish grow in their Catholic faith and live more fully as missionary disciples of Jesus.
Living the Eucharist runs during Lent for three years. Parishioners can take part in adult and teen faith-sharing groups, devotional and catechetical Lenten readings, and a prayer campaign.

Pope Benedict XVI's apostolic exhortation, The Sacrament of Charity, inspired Living the Eucharist. This exhortation calls on all Catholics to renew our experience of the Sacrament of the Eucharist as a mystery to be believed, a mystery to be celebrated, and a mystery to be lived.
Living the Eucharist renews and heightens parishioner involvement in the Sunday Eucharist, helps parishioners connect the celebration of the Eucharist more closely with the mission of Jesus Christ and the Church, and inspires them to live more intentionally as missionary disciples of Jesus during the week.
Multi-media program materials engage parishioners in the medium that speaks most meaningfully to them. All Living the Eucharist materials are available in English and Spanish. Click here to preview the materials for Year B!
Aprenda sobre Vive la Eucaristía en espanol.
View the Introductory Video for Living the Eucharist: