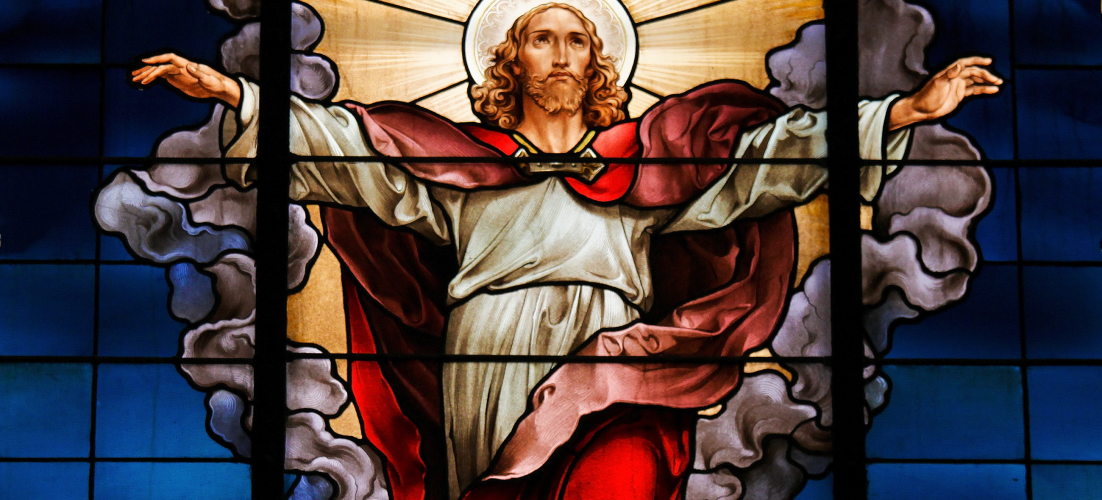 "He ascended into heaven, where He sits at the right hand of God."
Each week every Catholic congregation recites this at Mass.  I often wonder what is in our heads when we say this.  Do we imagine God sitting on a throne and Jesus sitting on a slightly smaller throne at the right hand of God?  Remember when the apostles James and John came and asked Jesus to sit at his right and his left?  What does any of this mean?
We know what the phrase "right hand man" or "right hand lady" might mean in terms of a corporation; they are the ones who are the chief assistants and help the boss execute his or her decisions.  Do you have a problem?  Go to the boss's right-hand-person and it will get solved.  To be at the boss's right hand is to speak and act for the boss.
But this idea doesn't get at Jesus' full reality in the Kingdom of God.  Rather, God sent his Son to become incarnate in our human flesh, to unite with us.  Now God says, in the Resurrection and Ascension of Jesus, that Jesus is the way in which God is to be known and seen—that Jesus, in his glorified humanity, brings about the purpose of the Kingdom.  As Jesus has been saying in our Gospel passages all these weeks, if you want to know what God is about, then look at Jesus in whom God was perfectly revealed.
"In a little while you will not see me and your hearts will be sad," Jesus says.  But he urges his followers not to be sad. Rather, they should rejoice that he, in his humanity, goes to the Father.  Why? Because this doesn't mean that Jesus is absent in the world.  It means, rather, that Jesus has assumed an even greater presence in the world, a presence through the Holy Spirit living and acting in all those who come to faith, in all those who dare to understand God through the life and love of Jesus.
As so often happens in the Gospels, just before people get the big insight, when they are almost ready to put things together, messengers appear to help them see it.  The messengers say, "People of Galilee, why do you stare so intently at the sky?"  Jesus is not gone from our midst.  Rather, Jesus is even more active in our midst through his Spirit and what the Spirit brings about in us. Why stand around and stare?  It's time to be . . . and to do!
Jesus is active in our sacraments, in our Scriptures, in our moral vision about the dignity of every human life, in our community, and in the virtues through which you and I show purpose.  This is why we sense Jesus' presence in our families, in our parish gathering, in our deepest and most authentic friendships, in the works of selfless charity we carry out, in the hope that we find in our darkest hours. 
In the Church before the Second Vatican Council, on Ascension Thursday, right after this Gospel was read, a server would go to the Easter candle and snuff it out.  You could almost hear the congregation gasp, as if Jesus had become this whisp of smoke.  I'm afraid this gave people exactly the wrong idea because the Easter Candle represents the light of the Risen Christ which can never be snuffed out.  Rather, it is a light that shines on all of humankind through the lives of those who become followers of Christ and become, themselves, flames of light and love through the Holy Spirit.