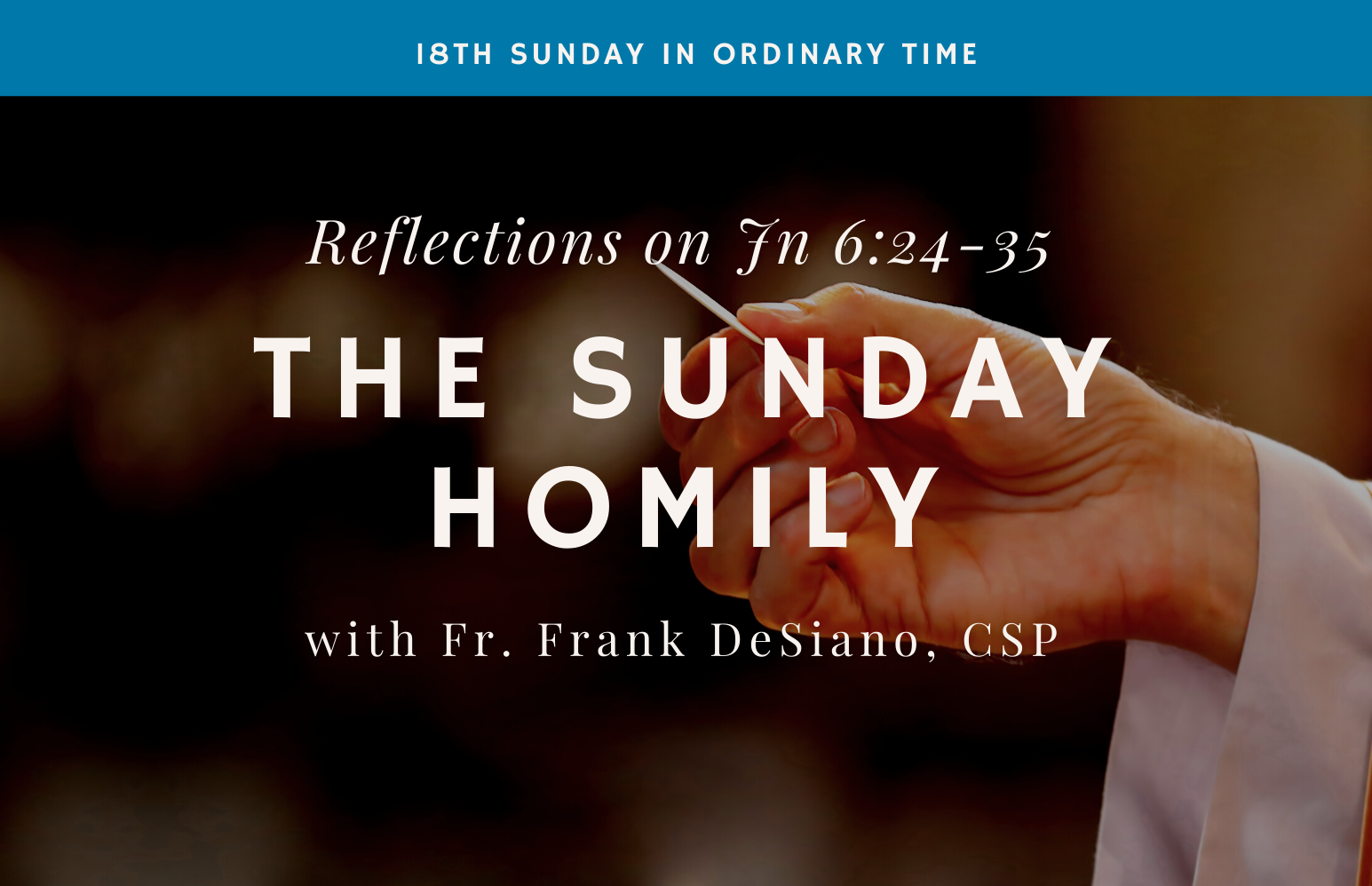 "I am the bread of life."
When we go out to eat, people can be very curious about what they are eating.  Some are finicky because they don't like raw tomatoes or spicy things.  Others, however, are analyzing the food: what were the ingredients, how did they make the sauce, and how did they get the string beans to be as tasty as they did?  "What is this?" they ask, as they roll the food in their mouths  They are very curious.
We see the ancient Jews asking same thing in the first reading. They have been liberated from slavery in Egypt and allowed to escape, but this still has not led them to know and accept the truth about God.  They still mistrust God.  What happens now, they ask?  Is God going to continue to be here for us?  Then they raise a complaint that seems perfectly justifiable to us: here we are in the desert, and we are starving to death.  Will God continue to take care of us?
God sends them flocks of quail for meat.  And then God sends a strange substance for their bread.  There are various scientific answers for what this strange substance might be, but that's not the point.  God provided the Jewish people what they needed for their time in the desert.  The strange substance, which made them so curious, was to help the Jewish people discover more fully who God is.  Their question, "what is this?" led them reflect on who God is.
In the Gospel today people are also curious.  They have followed Jesus from where he fed them, and now they are looking for him.  "Master, how did you get here?" they want to know.  So Jesus pushes back at them; he wants them to realize what they are really looking for.  He wants them to know who he is and what he is for them.  "Are you following me just because you got free food?"  You can get food in lots of places, but the food that "I am" can come only God's gift in your life. 
In some ways we are invited to keep asking basic questions: What is this sacrament?  Who does it reveal?  Who is Jesus?  How does Jesus feed us?  "Do not work for food that perishes," Jesus says.  Rather, work for the food that sustains you at the deepest part of our soul.  For most of the food we eat is to help us do something, to go about our business and take care of our everyday tasks.  But the food that Jesus offers speaks much more about who we are to be  than what we are to do. 
The food of Jesus is the food of his own life, a life that God gives for the salvation of the world, and a life that we are called to make our own when we eat the bread which is Jesus.  The food of Jesus means that Jesus himself is permeating our minds and hearts such that he shapes us and works through us.  "Put on the new self," we hear in the second reading.  Put on the presence of Jesus by letting him work through our thoughts and our deeds. 
We Catholics have a unique view of this Bread of Jesus.  We believe that Jesus is truly present in the consecrated bread, that we are made one with him.  But this is only the start of the mystery that you and I are called to live in Jesus Christ.  We have to go further: What is this—the grace we experience?  The strength that comes to us?  The peace that touches the depths of our hearts?  The assurance that we stand in God because Christ lives in us?  "What is this?" And Jesus responds: "I am the bread of life."
Jesus and his Eucharist are the mysteries that cannot be completely comprehended or exhausted.  They are the mysteries that underly our curiosity about life, and faith, and God.  "Did you come only because you were being fed?" Jesus asks.  After you eat the bread I give you, you will never be the same, because I have brought you into my loving and eternal life.  "I am the bread the gives you true life."