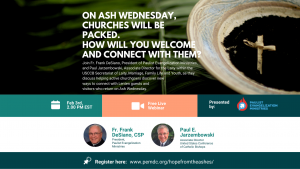 Hope from the Ashes
: Insights and resources for welcoming Lenten visitors to your parish.
February 3rd, 2022 at 2:00pm Eastern
On Ash Wednesday, most churches across the country witness an influx of individuals who are coming for a moment of return (and studies show that Lenten Fridays are even more popular), especially for those who are not as active in their faith. This phenomenon presents us with an evangelization opportunity like no other, but how do we respond on this day and throughout the Lenten season?
Join Paul E. Jarzembowski, from the US Catholic Bishop's Conference (Associate Director, United States Conference of Catholic Bishops Secretariat of Laity, Marriage, Family Life and Youth) and Fr. Frank DeSiano, CSP (President, Paulist Evangelization Ministries) to discuss how you can ready your parish for a more fruitful experience of Lent and the Paschal Mystery.