The Vital Role of the Eucharist in Forming Missionary Disciples
By Fr. Kenneth Boyack, CSP
Pope Francis invites every Catholic to be a missionary disciple. He teaches that "Every Christian is a missionary to the extent that he or she has encountered the love of God in Christ Jesus: we no longer say that we are "disciples" and "missionaries," but rather that we are always "missionary disciples" (no. 120, The Joy of the Gospel).
Since Catholics are indeed missionary disciples, it follows that each Catholic has his or her mission territory. Catholics who live in the United States can claim their mission territory not in some far away country like India but here: our families, work places, and areas in which we recreate.
A study titled "America's Changing Religious Identity" by the Public Religion Research Institute (PRRI), released on September 6, 2017, reveals that 24 percent of the adult population of the United States have no religious affiliation. The 24 percent represent around 60,000,000 Americans, based on the 2016 census. The graph below shows the dramatic rise in the religiously unaffiliated from 1990 to 2016.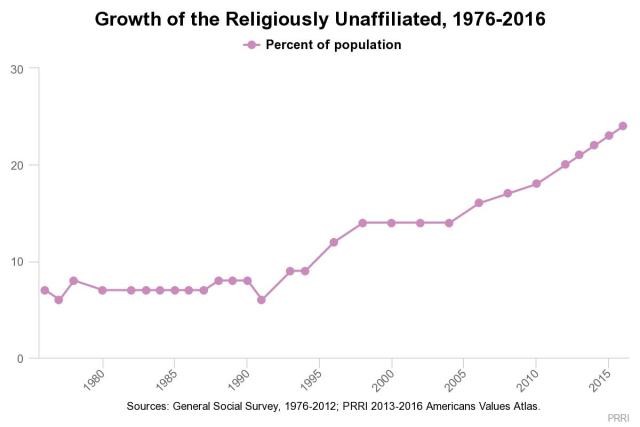 The graph below reveals that 38 percent of young adults 18-29 claim no religious affiliation.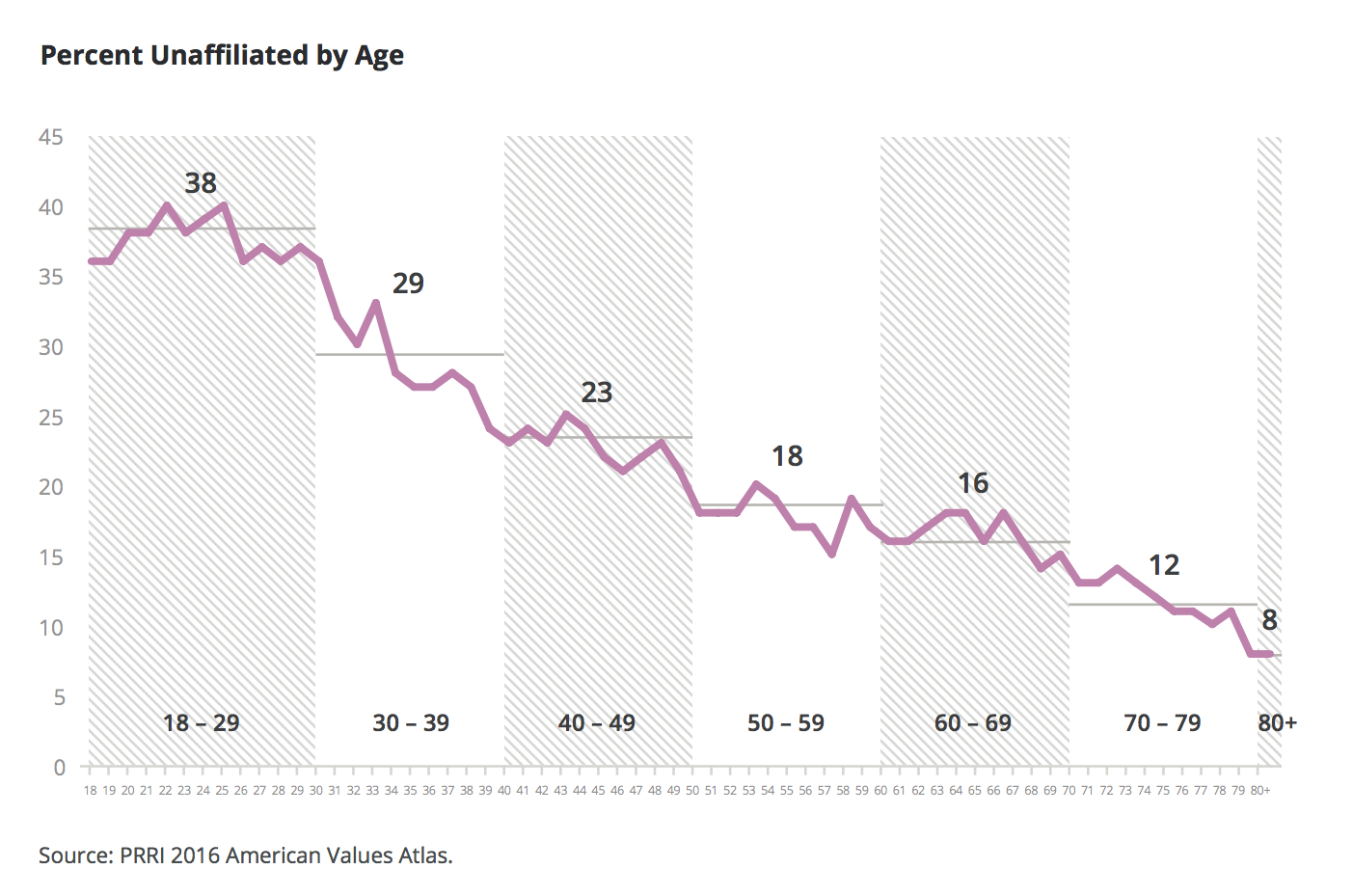 These findings should be of concern to each Catholic whom Jesus has commissioned to "Go, therefore, and make disciples…" (Matthew 28:19). Since most Catholics do not identify as missionary disciples we need to ask how we can form Catholics to be more missionary minded and become committed and skilled to invite and welcome those who are not around our Eucharistic table.
Although there is no magic wand we can wave to form missionary disciples, the Sunday Eucharist is a great place to start. The Eucharist is a natural setting to form missionary disciples. Pope Benedict XVI in his Apostolic Exhortation, The Sacrament of Charity (2007), identifies the Eucharist as the source and summit of the Church's life and mission. The experience of worship at Sunday Mass enables Catholics to grow in holiness and maturity in Christ. This interior growth in faith, this deepening relationship with Christ, can ignite the desire in Catholics to share the treasure of our faith with those searching for faith.
The elements of forming missionary disciples follow this trajectory: 1) a Catholic encounters Christ, and deepens his or her relationship with Christ in the Church; 2) the person grows in understanding of the salvific meaning of this relationship; 3) the person gains skills regarding ways to share Christ with others; and 4) the person becomes a more intentional missionary disciple, inviting and welcoming those seeking faith who are not actively part of a church.
Living the Eucharist, an Effective Way to Form Missionary Disciples
Paulist Evangelization Ministries has found that our Lenten ministry titled Living the Eucharist offers participants a proven pathway to follow these steps to become more committed missionary disciples. Transformative encounters with Christ occur during Lent through adults and teens participating in small faith-sharing groups; parishioners reading the Lenten daily devotional, the weekly bulletin insert, and saying the Living the Eucharist prayer; and families meeting weekly in homes.
Each of these experiences of Living the Eucharist enables participants to grow deeper in their understanding of the Eucharist that equips them for mission. For example, the small groups for adults and teens provide opportunities to share faith and become more aware of the power of one's personal testimony. The daily devotional, From Exodus to Easter, My Daily Journey Through Lent, provides opportunities to form habits of praying over the Sunday Mass readings before coming to Mass, a habit that informs and sustains missionary efforts.
Moreover, parishes that participate in Living the Eucharist find a built-in strategy to invite and welcome inactive Catholics and those with no church family. This ministry offers resources that emphasize the Eucharist as the source and summit of the Church's life and mission. Catholics are given opportunities to respond to the exhortation we hear at Mass during the dismissal rite: "Go and announce the Gospel of the Lord."
Feedback from over 5,500 adults participating in small groups demonstrates fruitful results: 92% have a better understanding of the Eucharist; 88% participate more fully in Sunday Mass, and 95% are more committed to live each day as intentional disciples of Jesus. And 90% rate their small group experience as "Very Good" or "Excellent."
We invite our readers to consider bringing Living the Eucharist to your parish for Lent 2018 as a way to form missionary disciples. Go to www.LivingtheEucharist.org and click on "Get Information" to learn more about this ministry. Watch the video of what difference this ministry made in the lives of people in the Archdiocese of Santa Fe below. Order your Parish Starter Kit here. It contains samples of all the materials your parish needs to begin this ministry in Lent 2018.
Forming missionary disciples who invite and welcome those with no church family is no easy task. But centering this formation on the Eucharist is a proven and effective way to foster parish engagement in this much-needed effort when 24 percent of our adult population in the United States claim no religious affiliation and are in our mission territory.
Fr. Kenneth Boyack, CSP, is Vice President of Paulist Evangelization Ministries and General Coordinator for Living the Eucharist.