Becoming an Inviting Church
"We cannot even preserve the faith among Catholics in any better way than by advancing it among our non-Catholic brethren. Indeed, simply to preserve the faith it is necessary to extend it."
– Isaac Thomas Hecker, Founder of the Paulist Fathers, July, 1886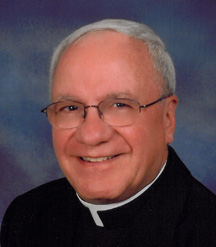 In this issue we're beginning a series by Fr. DeSiano called "Becoming an Inviting Church." This series will present directions to stimulate the thinking of pastoral leaders, helping them focus on the important ministry of inviting. Parishes may, to a greater or lesser extent, greet and welcome. But few parishes consciously invite–and this at a time when participation in church is falling across all the religious spectrum. Believers may not be able to do much to influence the mega-world of trends and public opinion, fads and news cycles, but they can do a lot to influence the micro-world of people through direct contact with them. Issues covered will include inviting young adults, seekers, inactive Catholics, and more.
Part 1: Inviting Our Parishioners
With weekly-attendance rates dropping below 25%, and "once a month" becoming the new "once a week," most parishes (and churches and synagogues as well) have seen a fall-off in church participation, particularly in worship. To some extent this fall-off has stabilized from the large drops in the 60s, and then again in the 80s, so that most parish leaders can predict the approximate numbers of people at Mass on a given Sunday. Studies show, however, that future generations have a very different approach to life in general, and faith in particular, so that participation patterns in the future may well be even thinner.
In the face of this, parishes have to
take the initiative. If people draw distant from institutional expressions of faith, then these institutions need to think of ways of drawing closer to their membership.
Parishes cannot presume on the involvement of folks listed in their databases. In fact, parishes should look upon these lists as pointing to the very people they should aim to invite. With 60% of Catholics mostly not going to Sunday Mass, and many of them identifiable by parish leaders, parishes need to start making connections with their registered members in a consistent way.
Some of the avenues to do this are, of course, email, snail mail, social media, and good old word-of-mouth.  
Redundancy doesn't hurt, since people delete and toss received items every day. So send your message in print and in electronic form. Think out your message from the point of view of your recipient—what is it that they are looking for? What might interest them? Keep the message short, up-beat, and packaged in an attractive way. Focus on what involvement would do in the life of your parishioner, not what your parishioner can bring to your church. Keep away from mentioning money; we are already stereotyped in this regard.
My initial suggestion would be to identify specific times to contact parishioners. Here are some starters:
Late summer, early fall: emphasize start-up in the parish, opportunities to get involved, particularly for the children.
Thanksgiving: here strike the themes of home, family, togetherness, peace, joy. Mention things your parish is doing around this time, particularly your own outreach to poor people, and ideas for making Thanksgiving more special. You might even compose a Thanksgiving Prayer for families to use around the table.
Christmas: here's a time for greeting people, wishing them joy, emphasizing themes of home-coming and family togetherness, generosity, and cheer. Tell people when your parish is having Christmas parties, and the Mass times. If you can think of it, maybe have a simple Christmas gift for everyone—refrigerator magnet, pen, calendar, holy card—use your imagination.
January-February: now we can connect around Lent, Ash Wednesday, special activities of devotion or sacrifice. Mention opportunities for faith formation, small groups, Friday Stations, Bread-and-Soup meals; reconciliation celebrations; activities for the poor.
Easter: here we can wax about the end of winter, the beauty of spring—and the glory of the Lord's Resurrection. Show pictures of those who are entering the Church, tell some of their stories. Mention other sacraments of initiation and their schedules—First Holy Communion, Confirmation. If sporting programs are starting up, throw that in as well.
May-June: at this time we can emphasize continued contact at Mass, any summer programs for children (or adults), Theology-on-Tap types of programs, and any changes in Mass schedules./li>
This will cost the parish a little money. My bet this that parishes that invest in continually inviting their parishioners will more than recoup what they spend dollar-wise, and, far more importantly, in terms of enriched parish life.