November 2017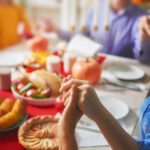 Greetings!
With the coming of Thanksgiving, the rush of the holiday season comes to its peak.
These next two months provide important opportunities for our families and our faith communities. During the Thanksgiving-Advent-Christmas-Epiphany season, almost everyone will renew connections with their loved ones. With connections, there always comes the possibility of renewed love and faith. Perhaps our parishes can explore how to maximize these personal encounters.
Our issue focuses on personal encounter as a crucial element of faith as we continue our essay series, "Catholics. Missionaries. Disciples." Diane Kledzik explores this theme in the area of the family; this is the first of two articles she will write on the topic of discipleship and family. I continue my series with an essay which focuses specifically on "personal encounter."
We also have a link to an article about our polarized nation and what faith can bring, a short piece on the Paulist Fathers founder and American evangelizer Fr. Isaac Thomas Hecker, and some scenes from our 40th Anniversary celebration, including a video of my homily which explores the importance of evangelization today.
Meanwhile, amidst all the holiday buzz, slow down to thank our wonderful God and prepare for the coming of God's Son.
Peace and Joy,
Fr. Frank DeSiano, CSP
---
Catholics. Disciples. Missionaries.
This year, the essays in the Evangelization Exchange will focus on how we can help form Catholics as missionary disciples. This series, entitled "Catholics. Disciples. Missionaries." will offer concrete examples of forming missionary disciples from various pastoral viewpoints, as well as an exploration of the theme in terms of Catholic evangelization and faith formation. Read past articles here.
---
Planning for Conversion: Encountering and Accompanying Families
by Diane Klezdik
Efforts to encounter and accompany families on the road to missionary discipleship, modeled after Jesus' invitation to "Come and see" (John 1:46) and "Follow me" (Matt 9:9) can be quite challenging. When families seek to live and grow their faith in our parish communities, engagement depends on addressing their needs and hopes. Gathering insight into the spiritual longings of families and their individual members takes more than one schedule, one meeting and one staff person.
It starts with a question and reflection…
What if we ask parents and family members on a regular basis, "How can we help you raise your family/child in the faith?" Start this conversation when meeting new families in the parish, during an in-person "interview" process to plan a family's faith journey for the coming year, when working car-line or parking lot ministry, when meeting with parents during sacramental ministry or when sitting with families as an event spectator. Hand-written or online surveys and polls also help families to reflect on this question and provide useful feedback for parish leaders. (Sample interview template PDF.
It continues with attention to Our story
What if we give the necessary time to listen to and to encourage the telling of personal faith stories and the desires of their heart? Ask each individual to describe their relationship with Jesus up to this point. Talk about ways they would like to grow in their knowledge and practice of the faith, in knowing Jesus, in their prayer life, and in serving others. Share faith and life at all parish meetings whether it be the finance council, middle school youth ministry, potlucks or small Christian communities.
It requires a team
What if a team of people are formed and trained to assess family needs and address those needs? This is not the job of one family minister, catechetical leader, pastor, teacher or youth ministry leader. Under the leadership of these staff members, parishioners can be trained to pastorally encounter and accompany families in reflecting and planning. Through gifts discernment, invite people in the pews to consider serving on this team and then take the time to train them for this role.
Diane Kledzik is in her 20th year at the Diocese of St. Petersburg, currently serving as the Associate Director for Evangelization, Small Christian Communities and Adult Faith Formation. Prior ministry work consists of 14 years in Youth Ministry on the parish and diocesan levels. Diane has a Certificate in Youth Ministry and an Advanced Studies in Ministry Certificate from the Center for Ministry Development and holds an MA in Pastoral Ministry from St. Thomas University in Miami, FL. She has served her parish as catechist on the Infant Baptism Team for 16 years and is on the newly formed Life Teen Core Team. Diane serves on the National Strong Catholic Families Team, the NCCL Representative Council, and is a Board Member of the North American Forum for Small Christian Communities and Paulist Evangelization Ministries.
---
Catholics. Disciples. Missionaries – Personal Encounter
by Fr. Frank DeSiano, CSP

In the year 2012, then Pope Benedict called an important meeting called a synod. While such meetings can happen whenever a pope might call them, they usually happen every four years-"ordinary synods." Two years before, Pope Benedict announced the theme of the Synod; it would address "The New Evangelization."
The Church had been using the term "The New Evangelization" since 1983, when St. John Paul II coined the phrase in a talk he was giving to the bishops of Latin America in Haiti. The phrase came to refer to the kind of evangelizing activities that would address the situation of faith in many modern societies. Once fervently Catholic and devout, now these societies behaved as if faith was not important; rather, a secular aura prevailed. This situation well described many European countries as well as certain prevalent attitudes in the United States
Over 260 bishops from all over the world attended the synod, plus religious and lay leaders. There were even representatives from the Eastern Orthodox Church, the Anglican Church, and many other Protestant communions. The bishops spent three weeks discussing issues, and another week pulling their ideas together. When it came time to communicate their conclusions, among the things they stated was this:
This faith cannot be transmitted in a life which is not modeled after the Gospel or a life which does not find its meaning, truth and future based on the Gospel. For this reason, the New Evangelization for the transmission of the Christian faith calls all believers to renew their faith and their personal encounter with Jesus in the Church, to deepen their appreciation of the truth of the faith and joyfully to share it.
(Synod, 2012, Prop. 57)
---
Bishop McElroy sees 'a cultural crisis in our body politic'
By Tom Roberts – National Catholic Reporter © 2017
SAN DIEGO – When the U.S. bishops gather this week in Baltimore for their annual meeting, they will observe the 100th anniversary of the founding of their organization amid the crisis of World War I. One of their members wishes the group would recapture the spirit of that founding moment and ask what the organization might do today to "help our nation at this moment."
The question and the wish were voiced by Bishop Robert McElroy of San Diego near the end of an extensive interview Oct. 31 at his office here.
"Part of me would like us to scotch the whole agenda and spend the time on: 'How do we help our nation at this moment?' I'm very alarmed about where we're going. I believe we're in a cultural crisis in our body politic," he said.
McElroy has, for a bishop, particularly pertinent credentials to speak about the status of U.S. politics and the broader culture. He earned a bachelor's degree in history from Harvard in 1975 and a master's degree in American history the following year from Stanford University, where he also received a doctorate in political science in 1989. In 1987, he had also earned a doctorate in theology from the North American College in Rome, which resulted in a dissertation, a highly readable study of American Jesuit theologian Fr. John Courtney Murray.
---
Watch Fr. Frank DeSiano's Homily from our 40th Anniversary Mass
On October 19th, many of our collaborators, past employees, and friends gathered to celebrate and recognize the contributions of Paulist Evangelization Ministries (PEM) over its 40 years of service to the Church.
The evening began in St. Paul's Chapel in Caldwell Hall (on the campus of The Catholic University of America) with a lovely Mass celebrated by the president of the Paulist Fathers, Fr. Eric Andrews. PEM President Fr. Frank DeSiano offered the homily.
Click the image below to watch an excerpt from Fr. DeSiano's Homily! To watch the full homily click here.
To learn more about our 40th Anniversary and how you can contribute to the celebration with your donation visit 
www.pemdc.org/40
---
Isaac Hecker: A New York City mystic and preacher on the way to sainthood
By Philip Kosloski – © Copyright 2017 Aleteia SAS
Born in New York City in 1819, Isaac Hecker grew up in a German-Methodist household. He would stick with this religion only until his teenage years, when he started to distance himself from the Christian denomination.
At the time Hecker was more interested in work and politics, though he still considered himself a Christian. Together with his two brothers, Hecker devoted all of his time to a political campaign during 1837. However, the campaign failed and left Hecker with a sour taste for politics.
He continued to struggle with God's plan for his life, and tried to search for his place in the world. At first he turned to philosophy and studied such figures as Hegel and Kant. Then in 1842 Hecker started to have mystical visions. He wrote about one such heavenly vision that changed his approach to the world.
---
Encountering the Living God:
This beautiful hard-bound book contains one hundred reflections on God as our Father, Savior, and Sanctifier. Generous pages give the reader space to journal their growing relationship with God.
Encountering the Living God makes a superb gift to thank hardworking parish staff and volunteers. This book would also be a great gift for family and friends.
---
Webinar Recording
Living the Eucharist: Life Changing Small Groups for Lent 2018
Parishioners grow in their faith through the dynamics of the small faith-sharing group process. Small group members gain new understanding, inspire others by their comments, and surprise and amaze themselves by articulating their faith openly, perhaps for the first time
The Living the Eucharist small group process, in both English and Spanish, will help parishioners experience the joy of the Gospel during Lent and be prepared to renew their baptismal promises at Easter with mind and heart renewed.
Watch this webinar recording to learn more about how to bring Living the Eucharist small groups to your parish in Lent 2018 and the transformative impact the small group process can have on your parishioners.
---
Paulist Evangelization Ministries | 202.832.5022 | Email | Website