Catholics. Disciples. Missionaries – The Mass
by Fr. Frank DeSiano, CSP
We open ourselves to God's love in our personal prayer. And we open ourselves to God's love, as a community of disciples, when we worship in liturgical prayer-particularly when we celebrate the Eucharist. If personal prayer has so much power, how much more spiritual power opens for us believers when we gather for Mass?
We know what gathering as a community does. We watch a parade and begin to sense the pride behind our daily lives. Our children process in graduation, and we see more clearly their achievement in the world. We walk down a busy street and realize that we are not alone in our thoughts. We go to the stadium and see tens of thousands shouting as if they were one person. We go to Mass and see our faith reflected in, and reinforced by, hundreds of other believers.
Although modern society has preferred a primarily private sense of faith-it's about "my personal" belief in God-all belief needs support. Were there only one person in the world who believed Jesus rose from the dead, that person would be deemed crazy. The most solid of our thoughts and beliefs echo in the lives of those around us. Does not the singer know one thing about herself while humming in the shower and something very different when belting a song before a thousand fans?
Liturgical Prayer: The Mass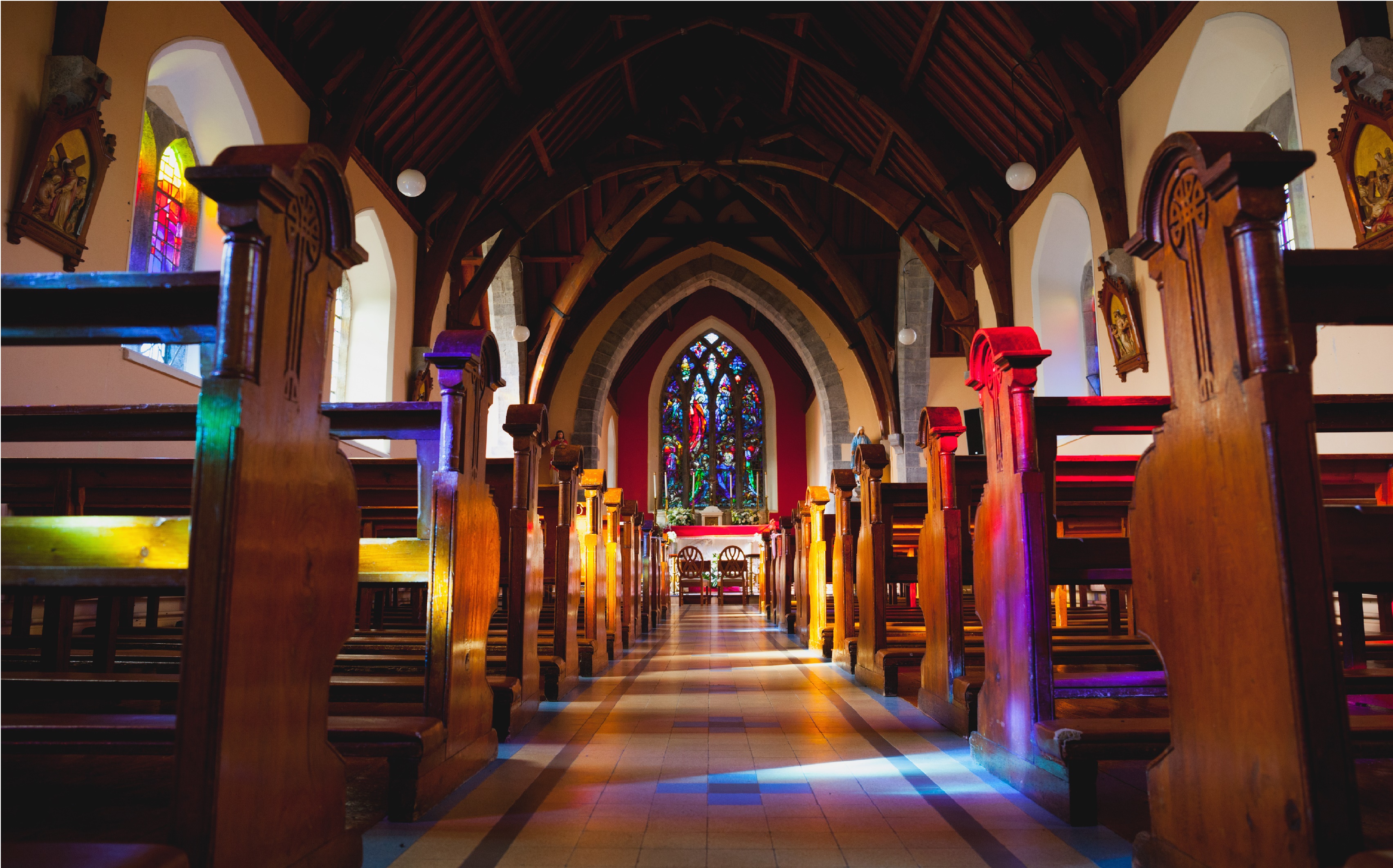 We come together to create a space for our faith, to be strengthened because of the experience of the presence of Christ, in his Spirit, and the presence of our brothers and sisters. In this space we sense not only what God continues to do in our individual lives; more importantly, we sense what God is doing in the world and in the community of faith which God gathers in grace. Our hymns allow us to feel the force of the community whose lives now spill out in song. Our quiet allows us to perceive the subtly powerful work of God in all our lives. The reading of Scripture challenges all of us to conversion: we hear that word together and, therefore, have a common obligation to fulfill it in our lives. We kneel to acknowledge the grace given to the world, now shown in our gathering.
Every liturgy grounds discipleship because it proclaims God's word, calls us to commitment, reinforces our faith through God's renewed presence, and sends us forth as believers into the world. Is it possible to attend the Eucharist and not have our faith deepened and our lives changed? Only if we are unaware of what we are doing, and what God is doing for us, only then does that Mass leave us unaffected. The Mass is an ongoing exercise of us Catholics being converted into closer followers of Jesus.
We can see the dynamic of conversion running through the Mass because, after we are gathered, the Word of God is read aloud as an irresistible call to hear God anew in our lives, both personally and as a community. Every passage, but particularly the Gospel, raises pressing questions for us. Will we hear Christ's voice? Will we listen? Where do we see ourselves in the proclaimed parable? How is the story of the Jewish people not our story as well?
The preacher deepens the acceptance of God's Word through the homily which helps the congregation understand the implications of the Word of God for our contemporary lives. Right after that, what does the Mass ask of us? It asks us if we believe; it asks us about our faith. We recite the Creed, out loud and standing, to show we are proclaiming an important response to the Word of God. The Eucharists asks the congregation if it will profess faith, the faith that is one with every generation of Christian believers from earliest centuries.
The response of faith in the Creed leads to the next response we make as disciples. With the Presentation of the Gifts, we respond on an even deeper and fuller level because the gifts we present represent our own resources—fruit of the earth, fruit of the vine, and also the "work of our hands." The Creed asked us if we believed. The Presentation of the Gifts asks us if we will give our strength, resources, and possessions for the Kingdom of God? Will I respond to the Kingdom's call with the riches of our lives?
The Presentation of the Gifts underscores one of the basic foundations of being a disciple: we have come to acknowledge that everything we have received is a gracious, unmerited, gift from God. Gratitude, from the deepest core of our lives, has to be our attitude. Who are we that God has given us so much? Further, realizing the abundance of God's gifts, we exercise generosity as far as we are able. We reflect a generous God through our own generosity.
Then, in yet another clear moment of commitment, the Mass brings us into the Eucharistic prayer which invites us to identify our prayer with the prayer of Jesus the Priest—to be one with his sacrifice. "Accept us, Lord, together with your Son," we pray. This heightens our commitment as disciples because it calls us to open our lives to God as Jesus did. As he gives himself, as eternal Priest, to the Father, so we are united with him in that unending prayer. The Eucharistic Prayer culminates in the great song of glory, "Through him, with him, and in him, O God almighty Father, in the unity of the Holy Spirit, all glory and honor is yours, forever and ever." Few prayers summarize discipleship as well as this one.
Holy Communion and the Dismissal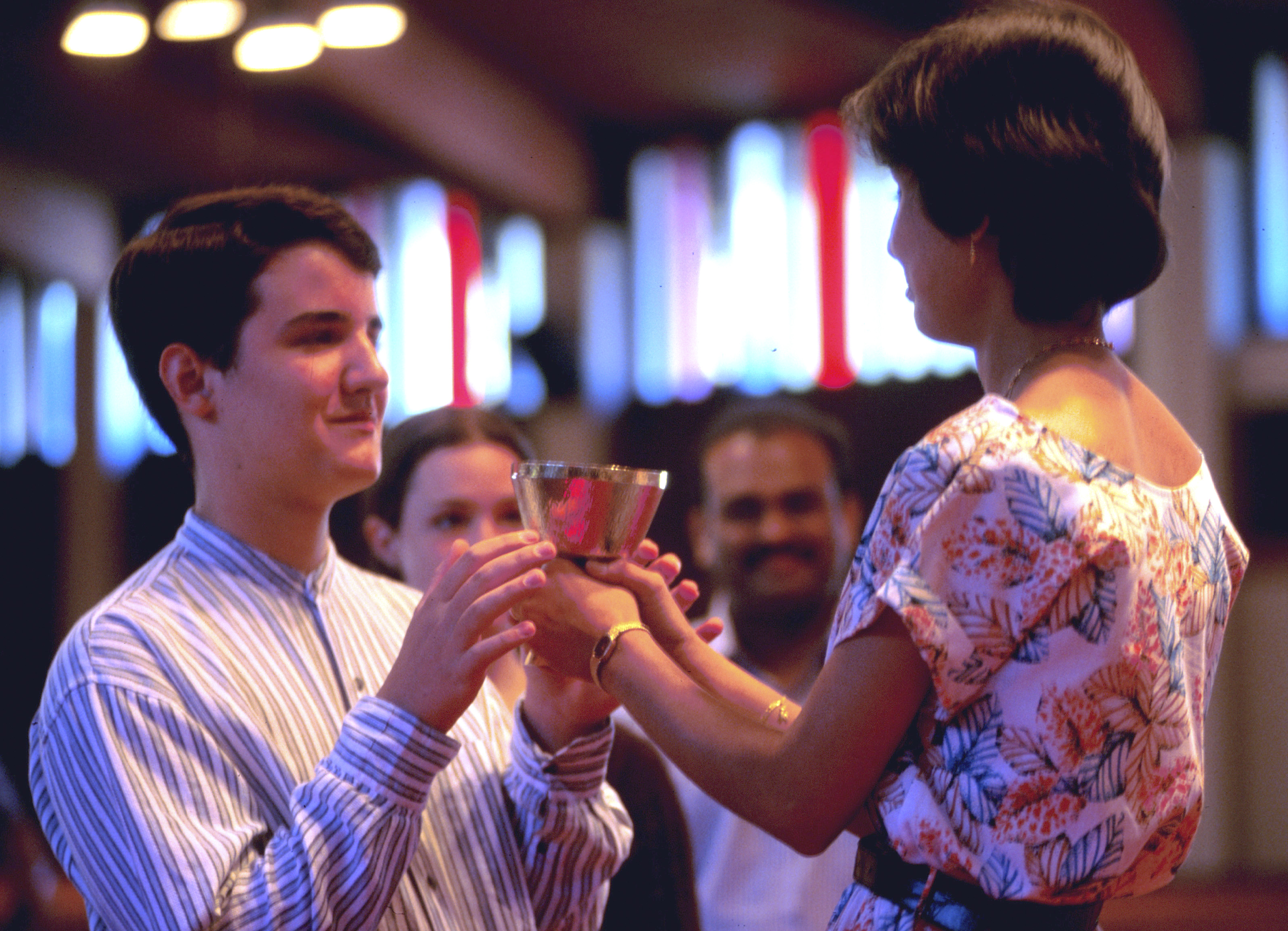 Then comes Holy Communion when the Lord stands before us and says, "Take and eat; take and drink." It is an invitation, but also a dare. The Body that Jesus offers is one that was given up in love. The Blood Jesus gives us is that shed for all of humankind so that we will be free from sin and evil. As Catholics we approach the altar knowing that Jesus Christ is truly present, truly offering himself to us, and truly inviting us to identify ourselves with his life and saving actions.
To receive Communion is to be made one with Jesus. Through it, we promise to live Christ's life, to make his death our way of living through generous love, to let his blood flow in our own veins as a sign of living like Christ. As Jesus lived historically in Israel two millennia ago, so Jesus lives now in the lives of those who give themselves to him. Indeed, we receive Jesus. But, just as much, we give ourselves to full union with Christ, making his life the standard by which we live.
This part of the Mass asks us disciples: Will we take his broken body, his blood shed in love, and make it our own flesh, our own blood? Will we be Christ today, in our daily lives? Will we be radically united to Jesus?
Finally, the Mass sends us forth as converted disciples into the world—to bring Christ's life to our homes, workplaces, neighborhoods, and civic environments. It calls us to be missionaries in a world that resists mission more and more. "Go and proclaim the Gospel." We go forth because that's where we exercise discipleship the most—in the world, continuing the mission of Jesus.
The Eucharist clearly is a profoundly evangelizing action for Catholics. Its dynamics situate us in the Word of God, the Trinity of divine love, the person and mission of Jesus, and the power of the Holy Spirit. Of course, the formulas we use in liturgy go back very far in history. A Scripture-and-music service might seem less remote and more personal. But the reading of God's Word, the prayer over the gifts, the receiving of the consecrated food—these have been the lifeblood of Christian life from the beginning, when believers gathered under great risk in house churches or assembled by the tomb of a sister or brother murdered for their faith. When we recognize the astonishing way God and disciples engage in this divine interchange, then the evangelizing power of the Mass will be clearer.
God's Space
Ultimately liturgy is not a space we alone create. God primarily creates liturgical space through the grace-filled presence of Jesus and the Spirit. For all we do in the liturgy, God does infinitely more. God imparts divine life through the sacred actions and signs now made, in the Spirit, instruments of salvation. God sends the Spirit to accomplish in us the grace of Jesus, making his death and resurrection active in our own lives. God's Son, Jesus, becomes active in the incarnate reality of our lives, just as he was in Israel twenty centuries ago. Jesus gives himself again, especially in Holy Communion—asking whether we give ourselves, in turn, to him and to his Kingdom.
If personal prayer opens up a sacred space, can we even begin to grasp the kind of space the Eucharist opens up? When believers come with daily lives and concerns, bringing what they have to the altar of Christ, all our lives and hopes, all those prayers, are now made one with the eternal prayer of Jesus. Heaven and earth touch, interchange, and share love when disciples gather for worship.
"I don't want to go to church," we hear from people again and again. We drift into our personal circles, diminished so much by the isolation of our lives. We walk around with questions and issues, many of which would receive a powerful response through the experience of worship. We wonder if we are profoundly loved and cared for . . . when every liturgy proclaims just this. We stay within the darkness of our doubts when God has already transformed that darkness into light.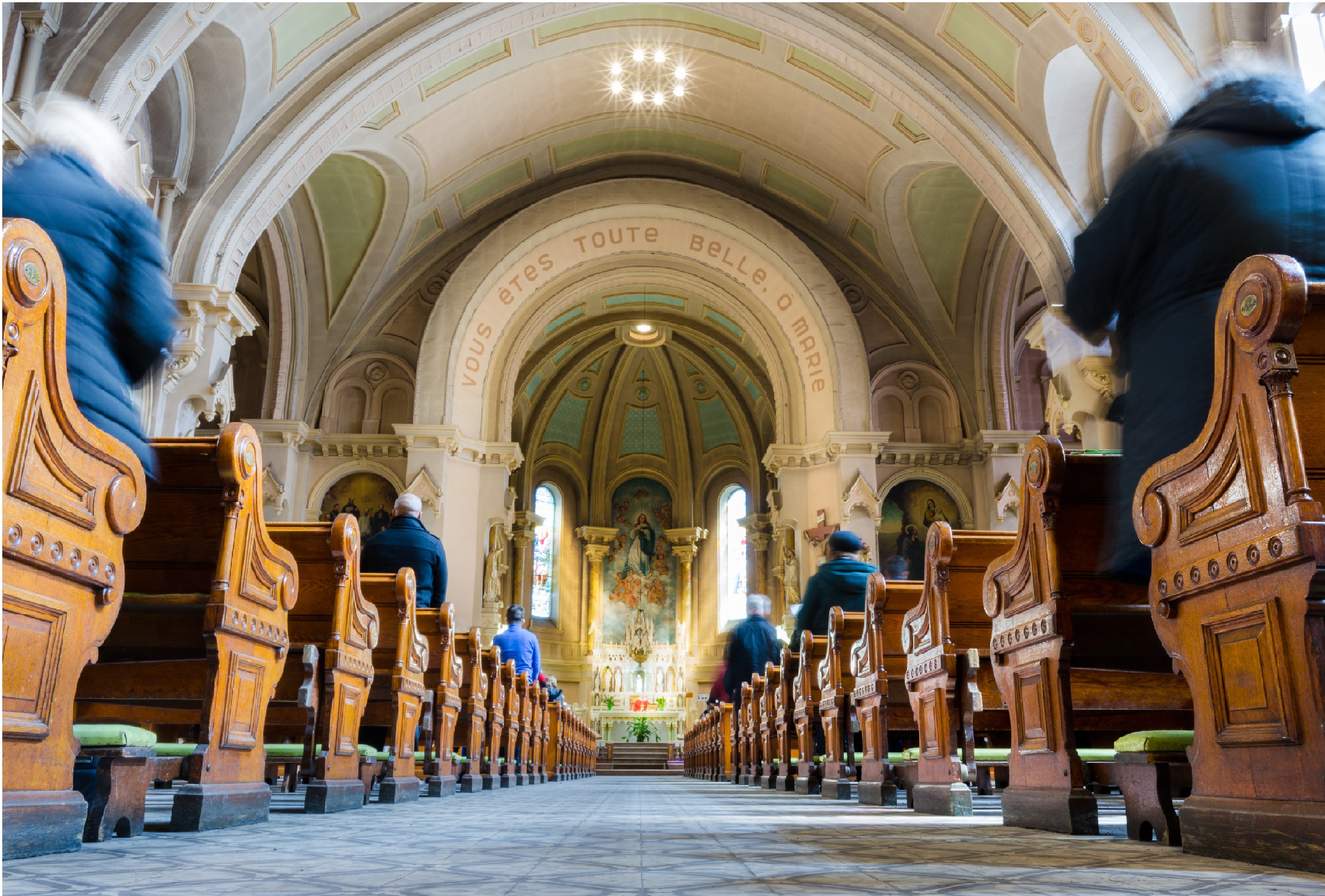 We Catholics have liturgy in our blood. Beginning with baptism, continuing with our experiences as we mature, marking important points of our callings in life, and ending when our families, full of hope, bring the remains of our beloved for final prayers, committing us to the God we have come to know, really, through a community of faith—this is what liturgy brings to our Catholic lives. Birth to death, and steadily in-between, liturgy swells our lives with God's own life.
Disciples realize that the presumption of today's culture—that we can manage things on our own quite well—calls for even more prayer in our lives. For all that humans can manage, some of it increasingly well, whole pieces of the human heart still seem elusive and beyond self-repair. Who will witness divine love in a world that thinks in terms of power and accomplishment, pleasure and wealth, pride and fame? Who will carry the torch of divine grace into the persistent darkness of human experience? Only disciples, expressing what they have come to experience in their relationship with God, can keep a world from falling victim to its delusions. Only disciples can place human quest into the sphere of divine love in which, alone, that quest has a chance to finally achieve its desire.
For power can be understood only by kneeling before the power of divine love, for that is power's true meaning. And wealth's fickleness needs the richness of God's constant love, for only this abides. And the teasing of our pleasure hints at a destiny of unending joy, which only comes through union with God who joins us, in divine love, to everyone and everything. All disciples experience this in prayer and worship. And, because of this, disciples can proclaim it forcefully to the world in faith.
---
Exercise
Mystics have the reputation of being in direct communion with God. But these experiences of communion with God may not be rare or exclusive. In fact, many Christians have a sense of union with God, which may come unexpectedly in the midst of personal prayer or worship.
Take twenty minutes and reflect on your life. Try to get to those moments when you felt "most religious" or "closest to God." Try to define the feeling you had. Explore how strange it might have been, how it seemed to take you out of yourself. Try to describe the effects such an experience caused in your own life, either immediately or at a later point. Explore how often such experiences came to you and the locations where these events happened.
---
Catholics. Disciples. Missionaries. is an ongoing series on forming missionary disciples in our parishes and community. Follow the series here.