Reaching Catholic Families
Fr. Frank DeSiano, CSP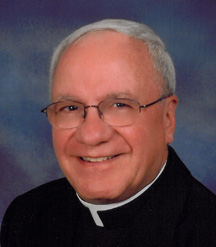 A group that seems to be receiving a lot of attention is that of our Catholic families. Certainly, I saw a lot of this at the LA Religious Education Congress this past February. I was struck, in the first place, by the numbers of participants who brought their families along on Saturday, the day that is focused on the general Catholic population. I tried to imagine the impressions such a gathering of 40,000 Catholics in one spot would have on their formation in years ahead. (I certainly remember processions and larger events from my childhood in the 50s.)
I also noted, in particular, a lot of discussion about families in all the levels of catechetical circles. Certainly most of the 40,000 participants at the Congress were themselves catechists, folks who minister so as to bring Christ into the lives of children and teens. I would often smile at the catechists who worked in the "middle school" grades, as well as high school, knowing how difficult it is to even get the attention of these youngsters, let alone form them.
But the idea that impressed me most was this: catechists are starting to realize that, beyond teaching children and youngsters, we have to be evangelizing the families. We have to design specific ways in which we are engaging the whole family. This undoubtedly means working with other parish ministers to look at comprehensive ways to involve families in a deeper sense of discipleship. Let me list some ideas I came across while in Los Angeles:
Forming groups of parents who, while children are in religious education, are involved in small group sharing, or specific adult formation.
Having the more active parents invite and engage those parents who might be less active in certain activities.
Offering shared meals among families, of a pot-luck nature, with opportunities for children and parents to share before and after meal, along with some joint work of charity (collecting food, making cards for shut-ins, etc.).
Celebrating the vows of our parents, together, with their children present, as one community of joint family commitment.
Having teams visit families to meet them, forms bonds with them, and encourage them in faith.
These ideas are only the tip of the iceberg in terms of what our imaginations, and local situations, might come to as we reflect on this essential dimension of evangelization.