January 2019
Greetings,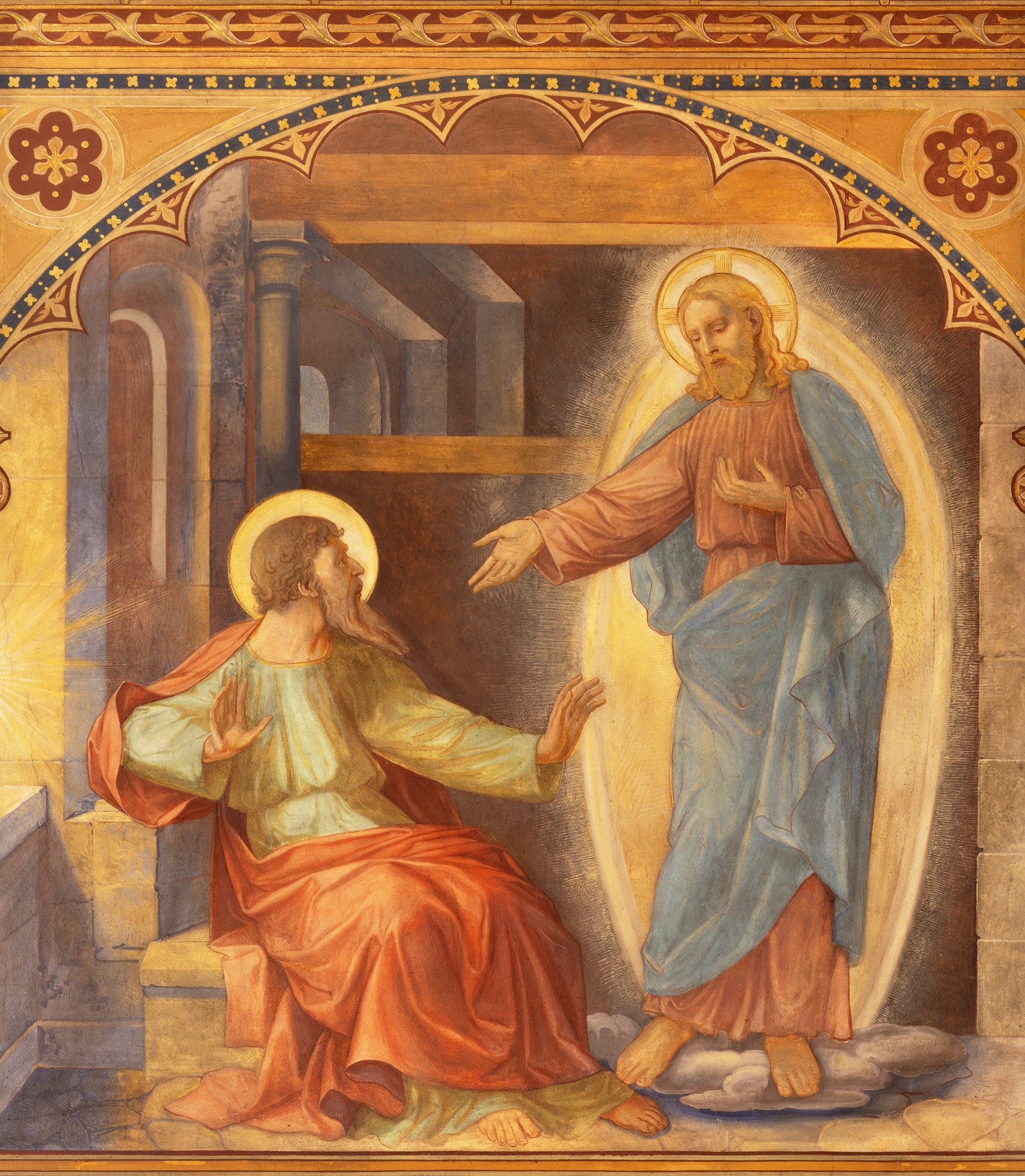 January is already coming to its final days, capped off by the Feast of the Conversion of St. Paul. May his conversion be a model for all of us, in our personal lives and in our ministry.
This month we are happy to share various ideas and links with you. Jane Angha, of the diocese of Green Bay, gives more concrete examples of welcome—and its absolute importance in parish life. A story from the Diocese of Tyler in Texas explores how art can be used to reach people—and as an example of the "way of beauty" (via pulcritudinis) that Pope Francis talks about. The story of how the Vatican is mounting an athletic team should bring a smile to all of us.
We continue exploring the intersection of parish and evangelization with an essay on how parishes can provide resources to shape discipleship in the lives of their parishioners. Speaking of which, what is YOUR parish doing for Lent? Living the Eucharist—a Lenten renewal program—can be a terrific resource for accomplishing just this. We are also including a link to our latest webinar on reaching Inactive Catholics—make sure to register for the rest of the series.
Lastly, we are having a fire sale at Paulist Evangelization Ministries. Some classic resources are greatly reduced!
With prayers for your efforts to form missionary disciples, I am,
Frank DeSiano, CSP
President
---
Being Formed as Missionary Disciples
By Fr. Frank DeSiano, CSP
President, Paulist Evangelization Ministries
Some of us Catholics have the privilege to attend retreats, periods of quieter and more intense prayer. At these times, we feel a stronger sense of God. These times also can evoke a very strong sense on our part of feeling one with God. Our hearts well up. Our minds seem overwhelmed. We can't find the words to express the depth that we have felt.
On these occasions, retreat leaders often offer cautions. They will point out that these feelings of great closeness are not easily sustained, and that, once we return to our everyday lives, it may be hard to reproduce these feelings once again. In fact, sometimes after peak spiritual experiences, we may even feel a great absence, almost like God has receded from us. Spiritual leaders sometimes refer to these experiences as "highs" that are followed by "lows." If we think about it, sometimes this our experience with others—a period of intense infatuation followed by a disheartening feeling of distance.
The Basics
Because of the dangers of trying to ground our life on our feelings, spiritual leaders will encourage the adoption of basic practices that, over the highs and lows of our feelings, will sustain our commitments and our relationship with God. In other words, graced as we might feel with emotional high points, we need to ground our lives as Catholics and disciples on the basic practices that will sustain us over the long run. These are practices to which we can return on a regular basis. In this way, they create a framework for our lives which can put into perspective a variety of moods and feelings as these arise in the various moments of our lives. Just as a honeymoon couple has to create the practices of daily, married life, so disciples need to form the practices that will ground their relationship with God.
The basis of this framework is prayer whereby we open ourselves to the Spirit's presence in our lives, letting the Spirit speak to, and lead, us. In this spiritual movement, we let God speak to us and we, in turn, speak to God. These conversations can take all kinds of shapes depending on what is happening in our lives. For the most part, they will be simple affirmations of our presence before God, and God's presence to us. But at periods of crisis, depression, fear, or boredom, our prayer might take on intense tones and dark shades. Especially during these periods, we need to be faithful to the basic practices we have established in our spiritual life.
---
Hospitality Surprises
By Jane Angha of www.ministryblueprints.com
"Welcome!" Who doesn't love to hear those words! It means someone was waiting for you, expecting your arrival and is happy to see you! In my family it means that a meal has been prepared, a bed is ready and time has been carved out for conversation and adventure. Our parishes ought to feel just like that – a community waiting in joyful anticipation for people to arrive to share in the Eucharist, pray with one another and share a doughnut or two over a cup of coffee.
Why does welcoming matter so much? It matters because people need to know their presence is valued and they are valued. If there is anything our parishes can do it is to do that. We create a beautiful environment in our worship space – because people will see it, feel it and it will touch hearts. We offer food and refreshments because it is a great way to connect and to continue the celebration of the Eucharist with others. Jesus did a lot of that. Making hospitality a priority is the best thing a parish community can do. You never know when hospitality is going to surprise and bless you.
I travel a lot for work and have experienced the best of hospitality and the lowest forms of it and survived!
I was headed to a small town in Texas to run a training workshop. The parish was extremely poor and they were housing me on a couch in a parishioner's home. I got up early in the morning to set up for the workshop and had the most beautiful surprise! A group of men and women had set up the parish room with flowers, pitchers of water, muffins, fruit and a hand-made gift for each person. All the technology was set up, water at the podium and a warm hug for a welcome. I was so touched by their generosity and kindness! That kind of hospitality sets the stage for incredible gatherings – great learning and a desire to do the same when the opportunity arises. I <3 Texas!
---
Artist creates works for Diocese of Tyler, St. Philip Institute; uses paintings to supplement liturgy
From The Tyler Morning Telegraph
By Augusta Robinson,
© Copyright 2019 <TylerPaper.com
While viewing Robert Puschautz's "Madonna of the Roses," Tyler residents may feel they have a clear symbol of their city's connection to God's plan. In the painting — which is inspired by a work by William-Adolphe Bouguereau that bears the same name — red roses drawn from those in the Tyler Municipal Rose Garden spring up in full bloom from a bush that surrounds Mary and Jesus Christ.
The trees in the background are modeled from those created by American landscape painter George Inness, but might remind some of the piney woods of East Texas.
Because Puschautz, a Chicago native who now lives in Tyler, avoids using photographs to create his works, even Jesus Christ was drawn based on a model — in this case his neighbor's sleeping baby.
"I had an idea of how I wanted the baby and then the baby would be in that position and then he would move and I'd be like 'well, there goes that," Puschautz said. "He ended up rolling into this position like this and that I was not intending and it ended up being perfect. "When life changes on you, you adapt and you incorporate it into the work," he added
Since June of 2018, Puschautz, 30, has been creating sacred art for the Diocese of Tyler as the Stabat Mater Art Fellow of the St. Philip Institute of Catechesis and Evangelization.
"Sacred art is artwork that is intended to aid and supplement the liturgy," he said. "It has to be based on the Bible or the lives of the saints, it's got to be Christocentric, so it's got to be about Jesus Christ in some form or another; and it has to encompass the entire mystery of Christ, or at least touch on the mystery of Christ."
Continue Reading at the Tyler Morning Telegraph
---
Act now to share the light of Christ in your parish with Living the Eucharist
Living the Eucharist inspires Catholics to live and share the Gospel through life-giving personal encounters with Christ during Lent. The stakes have never been higher and the need has never been greater to empower all Catholics to live as missionary disciples. You only have about two weeks left to save 10% off your total order when you bring Living the Eucharist to your parish for Lent 2019.
To save 10% on your Lent 2019 Living the Eucharist order, and guarantee delivery in time for Lent, you must place your order by February 6.
There are three easy ways to order:
Download the Order Form (it has a handy list of all available materials)
Call 800.435.7116.
When calling or ordering online, use savings code LENT2019 to claim your 10% savings.
---
Vatican's first official sports association includes migrant members
By Hannah Brockhaus, Copyright © CNA
Vatican City, Jan 12, 2019 / 06:01 am CNA.- The Vatican announced Thursday the start of the first official sports association inside of the small city-state, including among its membership two young African migrants living in Italy, to show how sport can aid integration.
The migrant members of the Athletica Vaticana sports team, which also consists of Vatican citizens and employees of the Holy See, are guests of the Auxilium cooperative in Castelnuovo di Porto, where Pope Francis celebrated Holy Thursday Mass in 2016.
Under the auspices of the Pontifical Council for Culture, the group's main sport for the time being is running, and it participates in marathons including Rome's annual "Via Pacis" half-marathon, an inter-religious event which also benefits the poor through the pope's charity office.
To aid in evangelization, the team composed a "Prayer of the Marathoner," which was translated into 37 languages, including Arabic and Swahili, and printed onto an image of a 4th-century fresco of an athlete from one of Rome's catacombs. They distribute the cards at the starting line of competitions. They have also promoted the celebration of Mass before races.
Continue Reading at Catholic News Agency
---
Upcoming Webinars
We have three free webinars coming up! If you are unable to participate in a live webinar because of the time or date, please still register as each person registering will receive a recording of the webinar. Please note seats are limited in these webinars so register today!
Reaching out to Inactive Catholics
Is there anything we can do to reach Inactive Catholics? Most parishes are very busy dealing with those who regularly use the resources of the parish. But every parish has the obligation to reach out to inactive Catholics (Cf. Canon 528).
Join us in a three-part webinar series. All webinars will be presented live at 3:00pm EST. Click each webinar title below to register for that webinar:
All webinar registrants will receive a special discount on the upcoming revised and updated electronic manual for Awakening Faith—a rich resource for reflecting about inactive Catholics and looking at ways to reach them.
Father Frank DeSiano will lead the conversation, reviewing different studies and conclusions and opening up pastoral pathways to help our parishes fulfill one of their essential mandates. Register using the links above and renew this part of your parish's apostolate.
Living the Eucharist Training for Small Group Leaders
Thursday, February 7, 2019, 7:30-8:15 PM EST
Presented by Fr. Kenneth Boyack, CSP
This free webinar provides training for anyone who will lead a Living the Eucharist small group during Lent 2019. The Living the Eucharist Parish Leadership Team Coordinator and the Small Group Coordinator will also benefit from participating in this webinar.
Participants will:
Discover the great value of the Living the Eucharist ministry.
Learn how to become an effective small group leader for the six small group sessions during Lent 2019.
Learn about Lectio Divina and the role this proven method of praying with the Scriptures plays in each small group session.
Become knowledgeable about resources available to enable the small group leader to become confident and competent in this ministry.
---
Evangelization Classics on Sale!
We're offering great deals on Evangelization Classics and more in our web store! No promo code required. Shop today and save!
| | | | | | |
| --- | --- | --- | --- | --- | --- |
| | | | | | |
| | | | | | |
| --- | --- | --- | --- | --- | --- |
| | | | | | |
| | | | | | |
| --- | --- | --- | --- | --- | --- |
| | | | | | |
---
© 2018 Paulist Evangelization Ministries | PO Box 29121, Washington, DC 20017