January 25: Feast of the Conversion of St. Paul
Fr. Frank DeSiano, CSP
We read so much of Paul, and from so many different contexts, that it is hard to get a sense of what his main mission and passion was. Paul makes many people feel uncomfortable today; he does not seem to many people to be a "modern" person with sensitivities to slaves, women, and people of various sexual orientations. He has been used historically as a hammer to bash one's opponents; many Protestants have read Paul primarily as anti-Catholic for 500 years, just as Christians have read Paul as anti-non-Christian for centuries. Paul's missionary zeal, too, has been used as a justification for aspects of colonial aggression: we have to change these people into Catholics, and make their culture conform to that of Western Europe.
Nevertheless, Paul's main thrust apostolically carries a broad and universal legacy of love, one that can inform all faith attitudes, particularly those of evangelists and those of ecumenists. Before Paul stands for any one thing—whether it be one doctrine or another—he stands for this: the transforming experience of God's love, and the openness of that love to bring about huge changes in the lives of people and churches.
Paul's starting point was the death and resurrection of Jesus Christ which lead, of course, to the outpouring of the Holy Spirit upon all who are open to God. As a Jew, how astonishing it was for him to encounter a crucified and risen Lord! Because of the death and resurrection of Jesus, something decisive had happened in human history, something that would change the very meaning of history. We have domesticated crucifixion with the plethora of crosses all around us; we likewise have made the pain of Jesus the key point of his dying. (Mel Gibson tapped a long vein of imagery and reflection!)
But the point of crucifixion was the utter humiliation it brought about, of course in the victim, but also in all those who witnessed such an extreme form of shame and degradation. This humiliation taught Paul the boundaries God would cross to reach humanity. Look at the pivot Paul points to when he is urging the Philippians toward genuine love—the pivot between the glory of God and the acceptance of humiliation in that distinctly Roman form of execution:
Who, though he was in the form of God, did not regard equality with God something to be grasped.  Rather, he emptied himself, taking the form of a slave, coming in human likeness; and found human in appearance, he humbled himself, becoming obedient to death, even death on a cross. (Phil. 2: 6-8)
This humiliation of the Messiah changes everything: the only center now is that of self-giving love, shown in Jesus on behalf of God. If God can cross over in humility to humankind, then humans can cross over in love toward each other. And, in particular, Jews and Gentiles—the situation in which Paul frequently found himself—can cross over in humility toward each other.
It is hard for us to grasp the drama of the years of Paul's life—the drama that brought about one of the greatest transformations in history. When Jesus ascends into heaven, his circle comprised women and men of Jewish and Galilean backgrounds. Just thirty years later, the community of Jesus comprises women and men of mostly non-Jewish, Gentile backgrounds. Christians now have Greek as their basic language, not Aramaic, or Hebrew. Imagine what it was like to be a Jew, who considered himself (I deliberately use the male pronoun) to be chosen by God and, therefore, above and beyond all non-Jews. Imagine what it was like to have Jewish Christians find themselves at table with Gentile Christians. Imagine what it was like to have Gentiles become leaders of Christian communities. This was a tsunami that threatened to wash away all religious identity.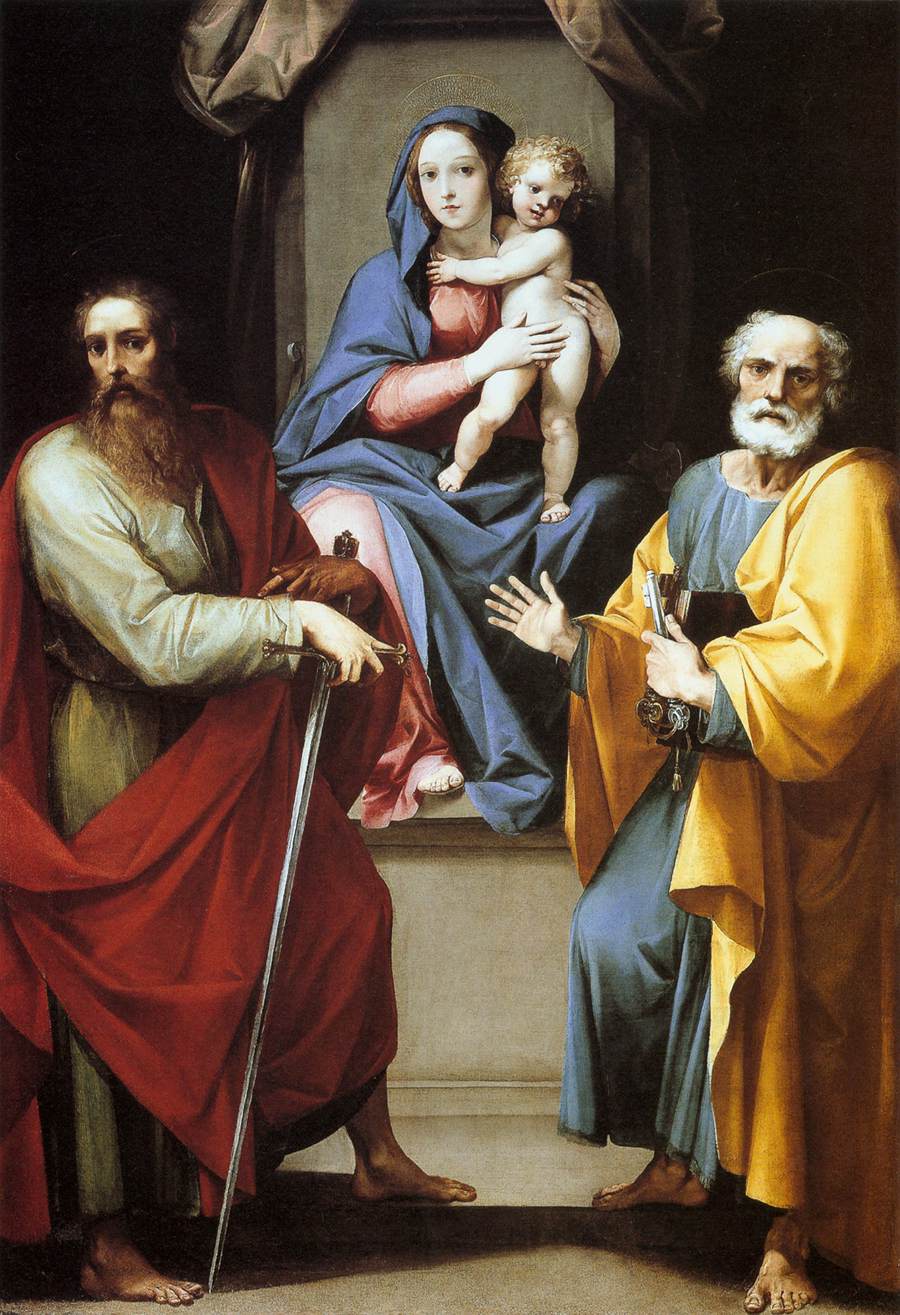 Into this dynamic and potentially explosive situation, Paul now arrives as a bridge person, as someone who is Jewish but raised in Gentile culture. And he has one huge message to bring to everyone: God's unbounded love, shown in Jesus Christ, is now open to everyone, Jew and Greek. It is the experience of that love, and its universality, that makes it possible for all to be brothers and sisters in one community of faith.
For all the contortions that have been leveled on the Letter to the Romans, it has only one argument to make: Gentiles now can be part of the Kingdom of God just as the Jews.  God's reconciliation is now offered to all people because all are in need of it. In Romans 5:5b, Paul writes: ". . . love of God has been poured out into our hearts through the holy Spirit that has been given to us." In other words, what makes one a member of God's Kingdom is not ethnic identity, or even prior religious identity. It is the one common experience of God's love poured into our hearts—the work of the Holy Spirit in the hearts of those who belong to Christ's new community.
Looked at this way, Paul is the opposite of a sectarian, viciously attacking those who do not agree with him. Just as Jesus' principal attacks in the Gospels were directed at religious leaders who did not see mercy at the heart of God's attitude toward us, so Paul's principal opponents are those who cannot see the breadth and sweep of God's love for all in Jesus Christ.
This Pauline insight lines up very well with Pope Francis' sense of what the basic Christian message is. In "The Joy of the Gospel," no. 164, Francis writes about catechists: "On the lips of the catechist the first proclamation must ring out over and over: 'Jesus Christ loves you; he gave his life to save you; and now he is living at your side every day to enlighten, strengthen and free you.' This first proclamation is called 'first' not because it exists at the beginning and can then be forgotten or replaced by other more important things. It is first in a qualitative sense because it is the principal proclamation, the one which we must hear again and again in different ways, the one which we must announce one way or another throughout the process of catechesis, at every level and moment."
And it's not only the catechist that needs this message: every preacher, every parent, every leader, every spiritual director, and everyone guiding people through the R.C.I.A. We all need to be on the same page, the page that Paul wrote in his time, but he learned from the Holy Spirit that flowed from the Risen Christ. Rather than this being a message that divides people, Paul teaches us that it is the one message that can unite us all.
Happy Feast of St. Paul.
Frank DeSiano, CSP