April 2019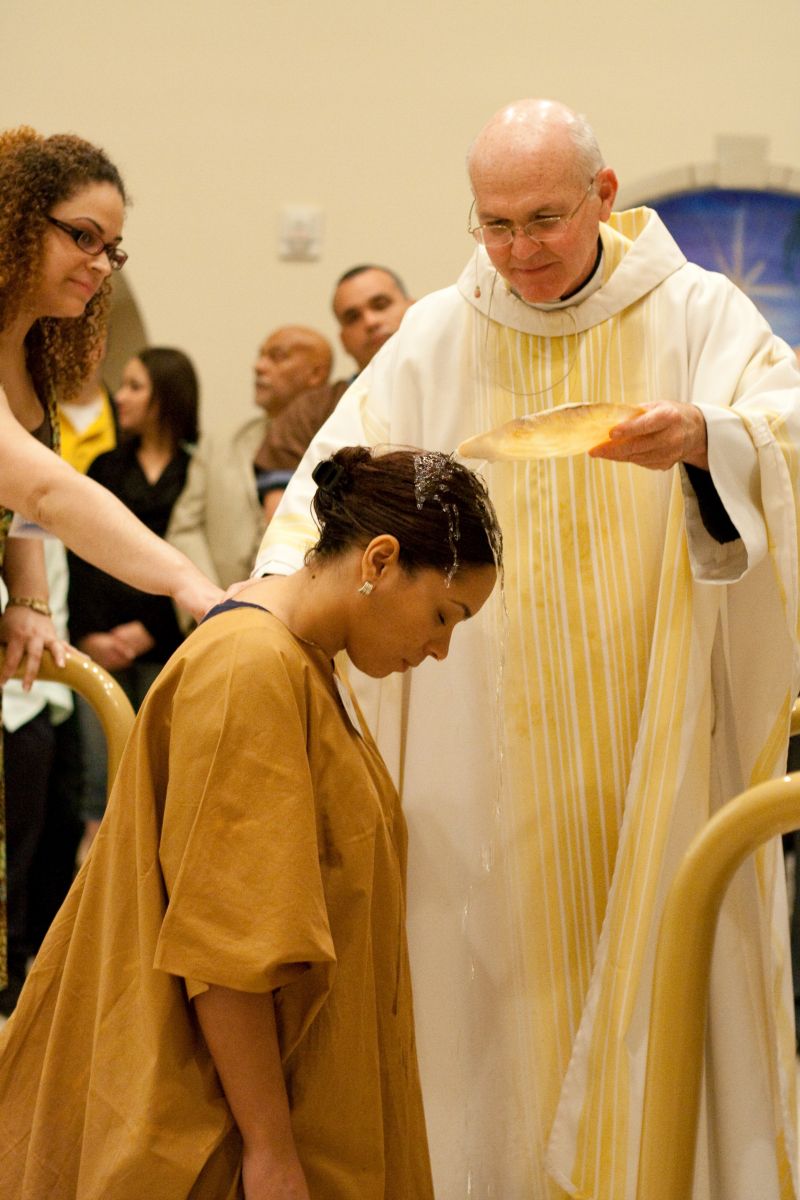 Dear Friend,
The many pictures I saw on Facebook of people being received into the Church at Easter show the joy that is part of our Catholic life, now amplified by the happy and beaming faces of people who have become part of our lives. This season, more than any other, teaches us what evangelization and reconciliation are all about—touching the lives of others with the grace Jesus has given us as a Church, as God's people.
In the issue this month, I talk a bit about why we should be inviting people to the Church—our Paulist take on apologetics. We also want to share a video on Lectio Divina; many Catholics are curious about learning more about this and the video might be particularly helpful.
We also feature a parish that is using Game of Thrones to share aspects of our faith with others—a way to use culture to share faith. In line with this, we feature a beautiful, five-minute video produced by the Paulist Fathers called "The Laundromat." It shows spiritual connections between people that transcend race and faith. Link to is on your own parish website!
We have a link to a study showing the general decline of participation in religion across the board in modern culture—among all groups and faiths. This discourages us, certainly; but it should also help us know better the religious world in which God invites us to reach out. We have far more resources than Saint Paul or Saint Peter ever had, and the same Spirit abides with us.
Please enjoy our newsletter and look at some of the resources we are featuring—some of them at a generous discount.
Easter Blessings,
Frank DeSiano, CSP
President
---
Last month we looked at "The What" of evangelization. This month we'll look at "The Why" and then, next month, "The How."
The Why
By Fr. Frank DeSiano, CSP
President, Paulist Evangelization Ministries
Why be a Catholic? Or why invite others to become Catholics?
This can be a particularly gnawing question at a time when culture wants us to think that one religion is virtually the same as other religions. "Oh, they all do the same thing. They help someone be good. Otherwise there's not much of a difference."
We certainly can acknowledge that some people in one religion might be far superior to particular Catholics in certain respects. We have much evidence that many Catholics do not live up to the faith; indeed, many violate it in drastic ways. But how individual Catholics live their faith does not speak to the reality of Catholicism—what it is, and what it offers humankind today. In fact, "The Joy of the Gospel" has a powerful section that calls us to realize the power of our faith:
It is impossible to persevere in a fervent evangelization unless we are convinced from personal experience that it is not the same thing to have known Jesus as not to have known him, not the same thing to walk with him as to walk blindly, not the same thing to hear his word as not to know it, and not the same thing to contemplate him, to worship him, to find our peace in him, as not to. It is not the same thing to try to build the world with his Gospel as to try to do so by our own lights…This is why we evangelize. A true missionary, who never ceases to be a disciple, knows that Jesus walks with him, speaks to him, breathes with him, works with him. He senses Jesus alive with him in the midst of the missionary enterprise. (266)
Knowing Jesus, and being part of his Church, is not the same as not knowing Jesus and not participating in his Church.
---
Treat Yourself This Easter Season!
Meet the Risen Christ in a personal way and let him transform your life. This happened to Mary Magdalene and the Apostle Thomas, and it can happen to you. How? Pray the daily Mass readings during the Easter Season using Lectio Divina. If you are not familiar with this proven method of praying with the Scriptures, check out the free video Learn Lectio Divina. Give yourself an amazing treat this Easter Season and meet the risen Christ by praying the daily Mass readings using Lectio Divina.
---
Take The Journey in your Parish!
The Journey/El Camino can help your parishioners renew their personal encounter with Jesus and grow as missionary disciples.
Help your parishioners and their friends renew their personal experience of Jesus and share their faith more openly. The Journey/El Camino uses sharing, prayer, and video to bring parishioners to a new awareness of their faith. Available in English or Spanish, The Journey/El Camino offers Catholics a comprehensive way to encounter the richness of Christ and his Church.
Click here to see the trailer, introduction, and group leader orientation
Order Here!
---
The Laundromat
Click the image below to watch a new short film from the Paulist Fathers entitled, "The Laundromat."
---
The article below shows an interesting idea for a parish event that could be used to reach out to non-parishioners in a unique way.
Parish panel discusses 'Game of Thrones' and grace
By Nicholas Wolfram Smith, © 2018 Catholic San Francisco
With the final season of "Game of Thrones" premiering April 14, St. Dominic Parish in San Francisco hosted a panel to discuss a Catholic approach to watching the hit television show.
Dominican Father Isaiah Mary Molano, St. Dominic's parochial vicar, along with the parish's adult faith formation director Michael Smith and parishioner Anne Marie Fowler, spoke about the moral and ethical aspects of the show, its redemptive value and some themes Catholics can keep in mind while viewing it.
Now in its eighth season, "Game of Thrones" has been praised for its intricate storytelling and compelling characters while criticized for its pervasive brutality and sexual objectification. Anne Marie Fowler said that while concern over "Game of Thrones'" immoral content and how it affects viewers is legitimate – "the show is filled with the seven deadly sins every moment" – it was important to address "whether persons of faith can welcome conversations about characters looking for redemption."
Michael Smith suggested viewers discern whether they should watch "Game of Thrones" and what purpose they can put it to. "Why watch this show, or shows like it that have consistently explicit disturbing scenes of violence and gratuitous casual sex and abuse? How is this good for us?" he asked.a comprehensive way to encounter the richness of Christ and his Church.
Continue Reading at Catholic San Francisco
---
Fr. Frank DeSiano receives Duc in Altum Award
Paulist Evangelization Ministries President, Fr. Frank DeSiano, CSP was honored by the Diocese of Brooklyn with the Duc In Altum award which recognizes a person who has demonstrated a lifetime commitment to the work and mission of the New Evangelization.
Read Fr. Frank's Remarks from the ceremony here.
---
U.S. Church Membership Down Sharply in Past Two Decades
By Jeffry M. Jones, Copyright © 2019 Gallup, Inc
WASHINGTON, D.C. — As Christian and Jewish Americans prepare to celebrate Easter and Passover, respectively, Gallup finds the percentage of Americans who report belonging to a church, synagogue or mosque at an all-time low, averaging 50% in 2018.
U.S. church membership was 70% or higher from 1937 through 1976, falling modestly to an average of 68% in the 1970s through the 1990s. The past 20 years have seen an acceleration in the drop-off, with a 20-percentage-point decline since 1999 and more than half of that change occurring since the start of the current decade.
The decline in church membership is consistent with larger societal trends in declining church attendance and an increasing proportion of Americans with no religious preference.
This article compares church membership data for the 1998-2000 and 2016-2018 periods, using combined data from multiple years to facilitate subgroup analysis. On average, 69% of U.S. adults were members of a church in 1998-2000, compared with 52% in 2016-2018.
The decline in church membership mostly reflects the fact that fewer Americans than in the past now have any religious affiliation. However, even those who do identify with a particular religion are less likely to belong to a church or other place of worship than in the past.
---
Evangelization Classics on Sale!
We're offering great deals on Evangelization Classics and more in our web store! No promo code required. Shop today and save!
| | | | | | |
| --- | --- | --- | --- | --- | --- |
| | | | | | |
| | | | | | |
| --- | --- | --- | --- | --- | --- |
| | | | | | |
| | | | | | |
| --- | --- | --- | --- | --- | --- |
| | | | | | |
---
© 2019 Paulist Evangelization Ministries | PO Box 29121, Washington, DC 20017