9/11 Interfaith Unity Walk
by Tom Ryan, CSP

After a moment of silence for the victims of the August shootings of Sikhs in Oak Creek, Wisconsin and for all victims of religious bigotry and violence, a 10 year-old Sikh girl named Tarina took the stage and went to the microphone:
"I am only 10 and don't know about all the religions but the recent shooting in Wisconsin got me wondering about other religions," she said. "I watched the coverage on TV and the reporter kept saying that the temple seemed to have been mistaken for a Muslim place of worship. Then, I heard another person saying 'Sikhs are not Muslims.' And I started thinking – What if we were? It would still be wrong for that man to come in the place of God and shoot people."
"It was horrible when Osama bin Laden attacked the Twin Towers," she continued. "A lot of Muslims were wrongly thought of. A lot of people think that if one person is bad in a religion, everyone in that religion is bad. I think that statement is not true. No matter what religion, we should never misjudge a person…. We need to stop hurting each other and create a world of peace and tolerance. We are the only people who can change the world."
The setting was the annual 9/11 Unity Walk in Washington, DC. on Sunday, September 9. For the 8th year in a row, every church, synagogue, temple and mosque on Embassy Row opened their doors to build bridges of respect for each other and to symbolically give the world a dramatic display of unity in response to the divisiveness and religious bigotry that followed the tragedy of planes crashing into and bringing down the Twin Towers in New York City and a wing of the Pentagon in Washington, DC, on September 11, 2001, resulting in 2,996 fatalities.
In a city not known for coming together—at least not politically—the Unity Walk has an impact both locally and beyond. It's an apolitical event without signs, banners or placards with walkers and worship houses alike often going beyond what is comfortable. One sees and hears things unexpected, like a Muslim call to prayer in a Jewish synagogue, or a Christian choir singing "Amazing Grace" on the steps of the city's Islamic Center. At each place of worship, guides from that community are available to answer any questions and refreshments are offered.
As a result of their experience on the Walk in recent years, a group of teenagers have organized an interfaith youth service. Capital Area Interfaith Friends (CAIF) consists of middle and high school youth who meet regularly for service projects such as preparing meals for and eating with the homeless. In the process, they learn about each other's faiths and come to see that service and caring for those in need is the heart of all faith traditions.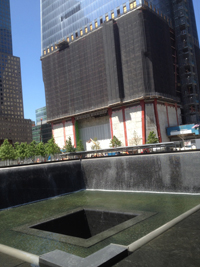 Two towers are presently under reconstruction in New York City flanking a memorial in which water flows down walls bearing the names of those who lost their lives in the 9/11 attack. The water flows down a dark hole in the center and drops out of sight.
9/11 Unity Walk is now broadening its efforts in the area of interfaith youth service. This year, the organization will be helping interested families, faith communities, and schools come together to start their own Interfaith Youth Service groups.
Similarly, young professionals in their 20s/30s involved or interested in interfaith work started a multi-faith network last April, holding monthly brown-bag lunches at various non-profit venues. They met with peers who staff many of the local interfaith organizations to explore future collaboration. They call themselves the Unity Walk Peacebuilding Network and offer a chance to hear from contemporaries what they're facing on the job and to share best practices on subjects like communications and relating to the media. Information about either of these budding organizations is available at director@911UnityWalk.org.
Nationally and internationally, it's a statement of what is possible. There is nothing happening in the DC Unity Walk that could not be done in other cities as well. At the beginning of the Walk, Imam Mohamed Magid from the All Dulles Area Muslim Society provided an example of possible far-reaching effects in saying that Muslim leaders in the U.S., moved by support for Muslims from members of other religions, have visited Egypt to encourage leaders there to respect the rights of Coptic Christians.
At the outset of the Walk, Rabbi Bruce Lustig of the Washington Hebrew Congregation shared a rabbinical story in which the students are asked by the rabbi, "How do you know when night has ended?" "When you can see three stars," said one. "When you can distinguish a dark string from a light string," said another. But the rabbi only shook his head to say "No". "You will only know that night has ended," he said, "when you can look into the eyes of another and see there a brother or sister."
And Imam Magid offered a fitting sequel to the rabbi's story by sharing how a woman in his community had asked "Why are we doing the Walk again this year? We did it last year."
p"We walk," he said, "because we have not yet arrived."