Parents and the RCIA Adapted For Children:
How One Parish Does It
by Joan Doyle
Nearly 20 years ago, our parish (St. Paul the Apostle in Los Angeles) established the "RCIA Adapted for Children." From the beginning, Irene Holly (Coordinator) and I made a conscious decision to include a parent component.   No "drop-off" program would do.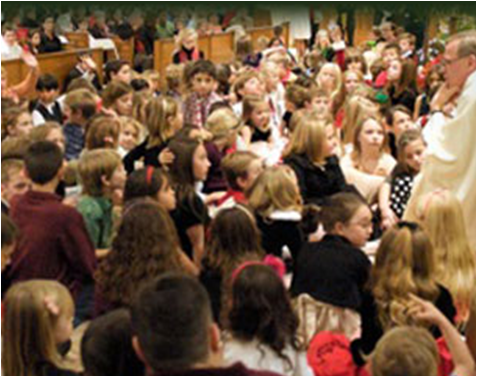 So, un-baptized and un-catechized children – post-second grade — and their parents enter a process of faith formation that meets after the Sunday 9:30 Mass — or, more accurately, after coffee and donuts! The children spend an hour with their catechist in one room; the parents with Irene and me in a nearby room. Using the Sunday Gospel, we invite discussion and go where the Spirit moves us. We
emphasize the importance of prayer in the home, the "hothouse" wherein faith is nurtured, and Irene provides Gospel-based take-home materials for family prayer and discussion.
We tell the parents they have entered this process because they want the best for their children, but we "predict" they will soon discover an unexpected impact on their own faith journeys. It never fails. The more the parents trust us (and the process), the more they share faith on a profound level: a father's journey to sobriety, a mother's loss of a sibling. We have even seen two un-baptized parents initiated – inspired by the experience with their children.
Our program is small…and free. We've never had more than a dozen families apply for any given year, so cost is negligible. The children are registered in the parish school or religious education program in order to have a religious education experience with peers because what we do on Sundays is "faith formation." It's all about initiation, journey, spirituality, discovery. Ultimately, the children who are among the Elect are fully initiated with the adults at the Easter Vigil; the children who are candidates for reception into the Church complete their initiation during the Easter Season.
These RCIA families seem to continue going to Sunday liturgy after they leave us. We attribute this not only to the sense of community they have discovered, but also to our constant reminders that what we do in preparation for initiation is not an end, but a process, a beginning – and that it is a hollow effort to go through RCIA and not be part of the very thing that is constitutive of who we are as Catholics: Eucharist.
Irene and I believe the Children's RCIA is a little gem in our parish, and we speak often about our role as privileged witnesses to this gentle – yet powerful – process of family evangelization.
Joan Doyle, a parishioner at St. Paul the Apostle and Master Catechist for the Archdiocese of Los Angeles, has varied experience: first as a teacher/assistant principal in the parish school, then as the parish DRE and now as a free-lance catechetical consultant, speaker and writer. Paulist Productions co-produced a DVD series, "Film Clips for Catholic Youth Faith Formation" for which Joan wrote the Study Guides (now distributed by RCL Benziger).