30 Ways iEvangelize
by Martha Fernández-Sardina

For almost three decades, Blessed Pope John Paul II, the pilgrim pope of the new evangelization, spoke and wrote about the need for a new evangelization, defining, describing, and modeling it in word and deed throughout his papacy. In continuity with his predecessors, Pope Benedict XVI has seen the need for an urgent and fully implemented new evangelization capable of addressing the "profound crisis of faith" we are experiencing in our modern societies, and he re-issued the call for a "stronger ecclesial commitment to a new evangelization in order to rediscover the joy of believing and the enthusiasm for communicating the faith." (Porta Fidei, 2, 7) But after decades of addressing the new evangelization in a myriad of ways, and even after establishing a Pontifical Council and convening a Synod on The New Evangelization, so many –too many!– fellow Catholics are still at a loss as to what it means and how they can and should go about it. In many instances a faith grown cold is to blame; in other cases, fears and objections, misunderstandings and misgivings are at play.
As I pondered how to further educate, enthuse, and equip Catholics for an effective new evangelization, I recently found myself thinking: How can we help everyone understand and commit to doing their part to bring Christ to the world and the world to Christ? I said to myself: It is not complicated – even though it may involve various means, methods, and moments, and a variety of possibilities, projects, and programs. And it begins with love! I took a sheet of paper and scribbled on it: How do I evangelize? I care, I smile, I talk, I share, I witness… I evangelize! What compels me – and popes and Christians throughout the centuries – to evangelize is one and the same thing: the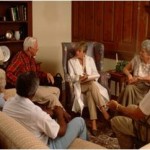 love of Christ! Today as in the past, Christ sends us through the highways of the world to proclaim his Gospel to all the peoples of the earth (cf. Mt 28:19).
It is love for God and neighbor that motivates and mobilizes new evangelizers! And in accepting the challenge and privilege of evangelizing, we grow in our faith and love for Christ and His Church: "In rediscovering his love day by day, the missionary commitment of believers attains force and vigor that can never fade away. Faith grows when it is lived as an experience of love received and when it is communicated as an experience of grace and joy." (Porta Fidei, 7)
On the same piece of paper, I added several more simple, daily, human attitudes and actions that are at the core of the new evangelization and the transmission of the Christian Faith, and what came from that hand-written little note is what I have now published below:
iCareiSmileiTalk

iShare

iWitness

iHelp

iGive

iLove

iDialogue

iExplain

iEvangelize

iInviteiListeniAsk

iTeach

iPreach

iShow

iTell

iWelcome

iPray

iConfess

iEvangelize

iAnnounceiDenounceiProfess

iProclaim

iBelieve

iBefriend

iPresent

iServe

iInclude

iSow

iEvangelize
Clearly, some of these are in the realm of "pre-evangelization." And undoubtedly, what we are called to share and proclaim, love and live is the truth, the whole truth and nothing but the truth, so help me God!, for as Pope Paul VI said after the first modern-day Synod on Evangelization: "The Good News proclaimed by the witness of life sooner or later has to be proclaimed by the word of life. There is no true evangelization if the name, the teaching, the life, the promises, the kingdom and the mystery of Jesus of Nazareth, the Son of God are not proclaimed." (On Evangelization in the Modern World: Pope Paul VI, 22) Yet, as we proclaim these we must be mindful never to forget the love that compels us and opens the door of faith. We must be mindful that the new evangelization of individuals is, in many ways, simple, doable. And it is rewarding!
I hope to expand on what each of these verbs means to me and how I put them into action at any given moment – and much depends on the listener, the circumstances, and the prompting of the Holy Spirit whose voice we must become accustomed to. But for now, I trust the same Holy Spirit will guide you during this grace-filled Year of Faith and use you to become and help others become better equipped to fully implement this new evangelization, producing fruit that will last for years to come.