A New Pentecost for a Culture of Pentecost
A culture of witness for a New Evangelization
by Martha Fernández-Sardina

To evangelize the world we need a "culture of witness," the U.S. bishops Committee on Evangelization and Catechesis explains in their new online evangelization document: "A Christian life lived with charity and faith is the most effective form of evangelization. To create a culture of witness, we must live explicit lives of discipleship…To those seeking answers to the increasing secularization, individualism, and materialism of society, a Christian life provides a powerful witness to the Gospel…This reorientation of one's life toward Christ is possible because of the work of the Holy Spirit." (Disciples Called to Witness: The New Evangelization)
To implement the new evangelization we need a culture of witness where the baptized understand and embrace the mission. For this to happen, we must evangelize, educate, enthuse, equip, and entrust Catholics with personal and parish evangelization tasks (the aim of all I do as an "archdiocesan evangelist", speaker, and writer). But more is needed: part of the equipping happens in prayer as recent popes have pointed out. We need a new Pentecost and a culture of Pentecost. We need power from on high, the gift of the Holy Spirit, as Jesus declared (Luke 24:49; Acts 1: 4). It is crucial, Pope Paul VI asserted years ago: "On what does the Church live? The Church lives on the Holy Spirit. The Church's first need is always to live Pentecost… The Church has a need for the Holy Spirit: a basic need, an existential need, a need that cannot be satisfied with illusions, with substitutes… a universal need, a permanent need… For this reason, if we really love the Church, the main thing we must do is to foster in it an outpouring of the divine Paraclete, the Holy Spirit. The Spirit who makes us Christians and raises us to supernatural life is the true and profound principle of our interior life and of our external apostolic activity…" (Pope Paul VI, General Audience, October 12, 1966)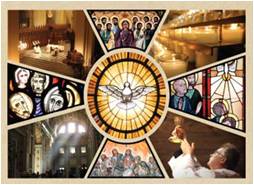 The Holy Spirit of God permanently and personally working within us and through us at all times is what Popes John Paul II and Benedict XVI have called a "culture of Pentecost," to be prayed for and welcomed: "I hope that the Holy Spirit will be ever more welcome in the hearts of believers and that the 'culture of Pentecost,' which is so necessary in our day, might continue to spread." (Pope Benedict XVI, General Audience, September 28, 2005)
We need a new Pentecost so that the "power from on high" we received when we were baptized in the Holy Spirit, whether as infants, youngsters, or adults, may be fully unleashed and take His rightful place in our lives. We need to live a culture of Pentecost in which all Christians are driving under the influence of the Holy Spirit. Pope John Paul II exhorted us to become what I like to call "power hungry Christians" who ask for more power, more love, more Holy Spirit in their life: "In our time that is so hungry for hope, make the Holy Spirit known and loved. Help bring to life that 'culture of Pentecost' that alone can make fruitful the civilization of love and friendly co-existence among peoples. With fervent insistence, never tire of praying 'Come Holy Spirit! Come! Come!'" (Address to Delegates from the Renewal in the Spirit, 2004)
So, how do we foster a new Pentecost and a culture of Pentecost so as to create an evangelizing culture of witness within which we might carry out a new evangelization? We pray as Jesus asked before His ascension. We unite as one, holy, catholic, and apostolic Church and pray the Novena of Pentecost from Ascension Thursday to the Eve of the Solemnity of Pentecost, and then we gather with Mary and the Apostles in our local churches (dioceses) and implore God to send power from on high, the gift of God, the Holy Spirit, as Pope Benedict XVI said during his 2008 visit to the United States:"Let us implore from God the grace of a new Pentecost for the Church in America. May tongues of fire, combining burning love of God and neighbor with zeal for the spread of Christ's kingdom, descend on all present!"(Pope Benedict XVI, Homily, St. Patrick's Cathedral, New York, April 19, 2008).
So, implore we will!
I hope you make this Pentecost special: we are all going to need the extra power as we enter the Year of Faith in the spirit of the Synod of Bishops on "The New Evangelization for the Transmission of the Christian Faith." I will join Archbishop Gustavo García-Siller, Bishop Oscar Cantú, and hundreds of brothers and sisters from various lay ecclesial movements and new communities for the Fourth Annual Archdiocesan Pentecost Eve Vigil Mass and Celebration, and spend a good couple of hours in fervent and joyful liturgical prayer imploring the Lord for the grace of a new Pentecost for an effective and full implementation of a new evangelization.
Find more information on the new Pentecost, the culture of Pentecost, the new evangelization, and the culture of witness in my television series on the Holy Spirit (www.archsa.org/Evangelization – Pentecost), my blog (https://iEvangelize.wordpress.com), and columns (www.satodayscatholic.com/Martha_052209.aspx, www.satodayscatholic.com/052308_Martha.aspx).