Advisory Board
Paulist Evangelization Ministries thanks the members of the Advisory Board for their service to our work. Msgr. W. Ronald Jameson, Rev. Eduardo Montemayor, and Mrs. Terry Modica completed their terms at the January 2012 meeting. Beginning their terms at the same meeting were Mr. Tom Quinlan, Ms. Michelle Montes, and Dr. Lucia Murphy. Our outgoing Advisory Board members, who will be maintaining a relationship with us, share their vision of evangelization over the next two years.

Terry Modica, Executive Director of Good News Ministries, gnm.org

For evangelization to be successful, we must first evangelize the evangelizers, those who are regular, church-going Catholics, perhaps even actively involved in parish life, but who do not realize that they are called by virtue of their baptism to continue the mission Christ began. They need to feel empowered to evangelize, which begins when they learn that they give testimony in the way faith affects their daily lives and difficulties, then sharing their faith when others ask about it. And the place to fulfill this mission is wherever they go and encounter others, including in those virtual meeting spaces created by modern technology.
Fr. Eduardo Montemayor, Director of Evangelization for the Diocese of Corpus Christi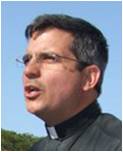 In the next two years, I pray that the XIII General Assembly of the Synod of Bishops, on The New Evangelization for the Transmission of the Christian Faith, births forth the fruit of guidance that can readily translate to evangelization on the ground. The Church urgently needs leadership and pastoral creativity in the practical application and implementation in the formation of clergy and laity on the local level, who will creatively and diligently work to evangelize and form God's people in their parishes, so that they will be equipped to in turn evangelize the society around them.
Msgr. W. Ronald Jameson, Rector, St. Matthew's Cathedral, Archdiocese of Washington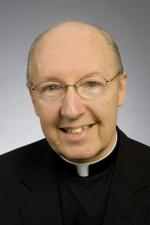 Recently we read at Mass the Gospel passage about the importance of pouring new wine into new wine-skins. It reminded me about evangelization. The message of evangelization is not new. However, we need to look at new ways to get that message of God's love understood by more and more people. We need to utilize new methods of social communication. As our Holy Father has said, we need to re-propose that message to life-long Catholics as well as those who have not yet heard the message. Same message, new methods to communicate it, and groups like Paulist Evangelization Ministries assisting with excellent resources.