Remembering the Power of Faith
by Magdalena Gutierrez

During a Year of Faith parish mini-retreat for parents, right before Advent, I was surprised by the opening conversation. There were about fifty parents, all very punctual and ready to begin. For an ice breaker, I asked this delightful group: "What is the thing you remember the most about Christmas, from the time you were children?" They paused in a prolonged silence, so I paraphrased the question. But still there was only silence. Fortunately, a lady in the front row finally volunteered her answer: "The thing I remember the most about Christmas was the food! My mom prepared a lot for everybody in the family." With that response, the group came alive immediately, in agreement, sharing joyfully their memories about their own Christmas dinner at home.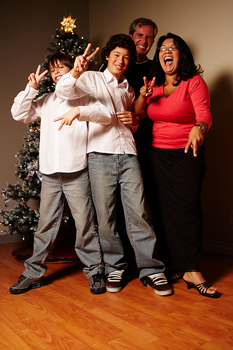 But I asked a second question: "Does anybody remember how your family celebrated Jesus during Christmas?" They did not! While this does not mean these parents grew up without praying or honoring Jesus during Christmas, it does suggest that other memories were more powerful.
What would we like the people in our parishes to remember after the Year of Faith is over?
I want to offer you one idea. I have made a note to myself that during the Year of Faith, every time I am teaching or training, whether at retreats, workshops, or for the RCIA, I will proclaim the Good News in a way that the people can remember how faith relates to the issues we face in human life. For this, I chose seven points about the Good News that might make this message of faith "user- friendly," something that might help people connect faith to their daily lives. Your own list may vary, but these seem to be the points that people tend to remember and reflect on:
God the Father, the Creator of everything that exists, loves us and created us to have a intimate relationship with each one of us.
Though God's invitation is constant, we struggle to keep God at the center of our lives and are often drawn to other "idols." But God does never gives up on us.
God has sent a Savior into our midst to free us from sin and give us back the possibility of an intimate relationship. God forms a people.
Jesus is the promised Savior. He becomes human, just like us. Through his ministry and teaching, his death and resurrection, he shows us how to be faithful to the Father.
Whoever accepts him into their lives begins a process of conversion in which we grow as disciples of Christ and learn to live our faith daily in concrete way.
Jesus and the Father send the Holy Spirit to guide the believers and form the Church. Jesus remains among us through the actions of the believers. This is the Church, the people of God.
The Church rejoices and suffers as we reveal the message of Christ to the whole world. We hope for eternal life when he comes back in glory, but we begin experiencing this new life here through grace!