Challenges from the Synod
by Frank DeSiano, CSP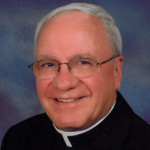 Most of my October was taken up observing the goings on at the Synod for the New Evangelization for the Transmission of the Christian Faith. I think it left us some very clear challenges. As evangelizers and catechists, we need to put on our thinking caps—and our prayer shawls.
The biggest challenge as far as I can see is the starting point of the Synod's reflections. After they reviewed the current situation (runaway secularism, etc.), they took up the pre-synodal comments, concluding that evangelization (as well as catechesis) is primarily about a "personal encounter with Jesus Christ." While this echoes phrases we've seen in On Catechesis in Our Day (Pope John Paul II's 1979 Apostolic Exhortation), and the General Catechetical Directory, the conclusion about the centrality of personal encounter also elevates this goal to the central and top place in our ministry.

I think any committed Catholic has some sense of what this goal is about—once we take a few moments and think about our own experience—but we now need to think about what this means in terms of method. How do we help people have this encounter? What are the spaces we create, the words we use, the images we provide, the prayer we lead, so that people can begin to see Jesus Christ anew…and so that people can see Christ as the center of their lives?
Our catechesis is still so classroom-dominated that words like "encounter" and "experience" seem almost out of place. Our liturgies, surely, can be places of encounter, but how often are they, in a way that people can access? What prayer experiences do we have for inquirers, for young adult cultural Catholics, for families and young parents?
It seems to me that this shift to the "relational" is highly significant—seeing our faith in the One with whom we are connected, and in the ones whom Christ connects us to. Of course, content and doctrine underlie all of this, but they are not the starting nor the ending points.
In some upcoming articles and a "E-Book" that Paulist Press will put out, I'll look at the Synod in more depth, teasing out its various implications for ministry. For now, though, I'm with everyone else, pondering what this direction means in all our evangelization and conversion efforts.