What Small Parishes Can Do
by Amanda Bell

My Parish Family of St. Raphael is located in NE Montana in a community of less than 3000 people. We have 3 other mission churches in smaller towns within a 50 mile radius that are also served by our Parish Priest and staff. In all, we have about 300 families. Evangelization has been a priority for our Pastoral Council for almost 2 years and we are just beginning to see the results of our efforts.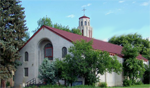 One of our first priorities has been ongoing training of our Hospitality Ministers so they understand that they are the first step in welcoming people into our Church. We have initiated monthly breakfasts after Sunday Mass and dinners after Saturday night Mass to give more opportunity for fellowship. These meals are hosted by ministries in the parish and there is no charge. We hosted a social gathering at the golf club and sent handwritten invitations to people who had fallen away. This event helped us identify people in our community who are Catholic but were not attending Mass for numerous reasons. It was strictly social but we invited them to church and put out information on what is going on in the parish. We have a both a Children's Mass and a Youth Mass once a month to get families involved. We recently formed a Stewardship and Development Council that composed a vision that includes welcome and evangelization as a part of stewardship. We see our efforts in Christian Service such as Parish Nursing, Comfort Quilts for the sick and work with the poor through the food bank to be evangelization. We are considering forming an Evangelization Team in the future.
Our biggest effort, thus far, was hosting Father Frank DeSiano for a 3 day Parish Mission. He also met with our leadership, our staff and our youth. This was a huge success and very well attended. This year, we are offering "Living the Eucharist" during Lent and will be doing another smaller Parish Mission in April. We use pew cards, have studied "Re-activating Our Catholic Faith" in small groups and regularly 'attend' PETI Webinars on evangelization.
Thank you to the Paulist Fathers for such wonderful resources!
Amanda Bell is the Pastoral Associate at St. Raphael's Parish in Glasgow, Montana.