Handout: Parish Meetings, An Encounter with Jesus
by John Boucher
John Boucher, of the Diocese of Trenton provides this handout, Parish Meetings: An Encounter with Jesus, with an understanding he articulates at the very beginning: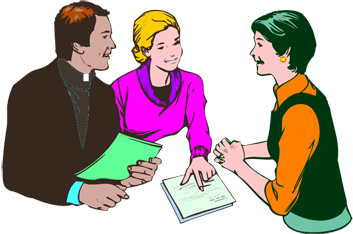 Let us begin with the firm belief that every parish meeting is an opportunity to encounter Jesus Christ, to build the community of disciples and to empower each other to evangelize. As members of parish staffs, finance, evangelization or stewardship committees, parish pastoral councils, and other parish ministries and committees, we have a sacred trust. Jesus calls and sends us as missionaries—this is the deepest reality of parish activities. Money, buildings, and programs are important only because Christ gives them to us as tools to engage in the "New Evangelization."
He outlines how meetings can be structured to include, prayer, study, reflection, and, of course, business. In conclusion, the handout includes reflection questions that small group members may use to assess and evaluate parish meetings.