12 Tips for an Effective New Evangelization
by Martha Fernández-Sardina

Years ago, the "fisher of men" per excellence tookPeter and his companions on an obedience-testing, trust-strengthening, faith-building, space-enlarging, net-busting, boat-sinking, miraculous fishing expedition – and their lives were never the same! Jesus Christ is calling us to the same life-changing journey of faith today. His Vicar, Blessed Pope John Paul II, echoed the call at the beginning of this Third Christian Millennium: "Duc in altum! In the cause of the Kingdom there is no time for looking back, even less for settling into laziness. Much awaits us…" (Pope John Paul II: Novo Millennio Ineunte, 15)
As individuals and as faith communities, we must learn key principles for a successful new evangelization – understanding people's right to hear "the respectful presentation of Christ and His kingdom" and professing that the Gospel messageis "necessary, unique, and cannot be replaced" (Pope Paul VI: Evangelii Nuntiandi, 5); recognizing that "the time has come to commit all of the Church's energies to a new evangelization" (Pope John Paul II: Redemptoris Missio, 3); believing that moving from maintenance to mission is indispensable given the widespread loss of faith and morals and the "profound crisis of faith" we face (Pope Benedict XVI: Porta Fidei, 2); proclaiming that faith is a public affair and not simply a private matter, as Christianity has everything to do with the way we live in society; trusting that the Lord Jesus will help us get the job done as Peter did when he agreed to "Duc in altum! Put out into the deep!" (Luke 5)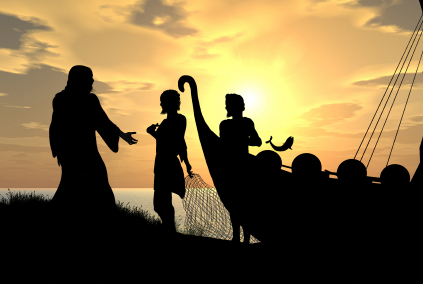 As we observe the 13-month long Year of Faith (10-11-12 through 11-24-13), every Catholic and every Catholic parish, group, organization, and institution must learn how to use the Church's timeless and timely teachings and rich heritage to awaken the missionary commitment of believers capable of leading people to "rediscover the joy of believing and the enthusiasm for communicating the faith" (Pope Benedict XVI: Porta Fidei, 7), and becoming effective fishers of men who put out into the deep and witness a miraculous catch filling hearts and minds, homes, parishes, schools, Bible studies, faith formation classes, and the public square to the point of sinking!
How do we do that? Here are 12 Tips for an Effective New Evangelization which every individual and parish can implement easily at any time. Find a more detailed version at: https://iEvangelize.wordpress.com.
Witness with your life • Show signs of a faith that is alive, a conviction that is real, a love for God that is genuine and attractive.
Include God in your vocabulary • Bring God up in your everyday conversations, acknowledging Him as the giver of all good gifts, as the One who answers prayers, as the One who directs the course of our lives when we submit to His all-loving plan.
Become a person of welcome • Become increasingly welcoming toward others, making every effort to avoid critical or judgmental thoughts, attitudes, and words – a sure deterrent for anyone considering Christ and His Church.
Build relationships of care and trust • Ask the Lord to instill within your heart His own sentiments and care for the people in your life with whom He would like you to share about His salvation and plan for their lives.
Establish a common interest • As an instrument in God's hands, work patiently to establish mutual interests with others so as to prepare the way for profitable discussion about spiritual matters.
Awaken their curiosity • Praying that the Holy Spirit touches both the heart of your listener as well as your lips to speak His word, be alert for opportunities to share a spiritual experience and spark curiosity for the Faith.
Share your faith story • Prayerfully put into writing what Christ has done for you and means to you, and how participation in the life of His Church has changed your life, and practice giving a 30-second, a 60-second, and a 3-minute testimony.
Present the "Christ-event"or kerygma • Respectfully present the core of the Gospel message or "kerygma" in a clear, concise, and convincing manner, one that touches the heart and mind of your listener and disposes the person to want to know Jesus Christ personally.
(Learn how to) Extend an invitation • Invite your listener to accept the salvation and new life offered in Christ and to attend an appropriate Church event or service.
Facilitate incorporation into the Body of Christ • Inquire as to the person's readiness to receive the Church's Sacraments of Initiation and arrange for this, if appropriate and welcomed by the person being evangelized.
Do not condemn • Imitate Our Lord's compassion and merciful love, and associate with those whose lives may not be all that God desires for them, and with those who may have questions and even objections about the faith; and pray that the Holy Spirit continues to work in their hearts as He does in yours.
Know when to stop • Give the person as much of the Message as he or she is ready to hear at this particular time, while you continue to pray for other opportunities to further share the Good News with them.
Duc in altum! Put out into the deep for a catch!