Frequently Asked Questions on The New Evangelization
What is the new evangelization? Why the word new?
In establishing the Pontifical Council for the New Evangelization, Pope Benedict XVI explained, "Although this task (of evangelization) directly concerns the Church's way of relating ad extra (toward those outside of the Church), it nevertheless presupposes first of all a constant interior renewal, a continuous passing, so to speak, from evangelized to evangelizing." We call it the new evangelization because we are asked to present the faith in new ways and in new forms, not only to reach those outside of the Church, but to re-introduce the faith to those who have abandoned it or who have become disconnected from the faith for some reason. The new evangelization seeks to address a crisis of faith among those who do not understand or experience how faith in Jesus Christ can be of benefit to the way we live in the world with others. Pope Benedict addresses this crisis in Porta Fidei, the letter promulgating the Year of Faith that begins on October 11, 2012.
The new evangelization also stresses that conversion is an ongoing and lifelong experience for every believer.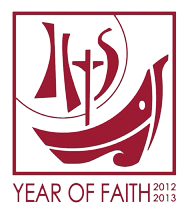 Hasn't this "interior renewal" always been a part of what it means to evangelize?
In one sense, this interior renewal has been an integral part of the mission of evangelization. In the U.S., for those who profess to be Catholic, such renewal is what is called for in Goal 1 of Go and Make Disciples. Yet, it is still new in that we are challenged to place our focus on the notion of entering into a relationship with Christ as disciples. In many places the focus has been on teaching the doctrines of the faith. But without a way of helping Catholics and others see how this faith has a direct bearing on our attitudes, relationships, and ways of behaving in our surroundings (home, work, play, etc.), our proclamation and witness falls short.
Should we focus on Catholics "in the pew" first, before we try to reach out to others?
We do need to engage Catholics in our parishes to embrace a faith that is lively, sincere, and credible, a faith that addresses their longings and hopes for living a fulfilling life. But we cannot forget our mission towards those who are seekers, those who have no religious affiliation, or those who have become disconnected from the faith. If we put all our energy on the "insiders," we run the risk of portraying ourselves as insular and unwelcoming. From the perspective of the three goals in Go and Make Disciples, we want to embrace all three prongs of this mission. Many of the parish ministries and programs we have now attend to the first and third goals. Our parishes also need evangelization teams that will help us to learn how to extend invitations and to become more welcoming to others.
We offer many courses on the teachings of the faith, but the same people seem to show up. How can we attract newcomers and those who need to be re-introduced to the faith?
If our goal is to enable people to experience the love of God (and others) with heart, mind, and soul, we need to reach out to people in a way that touches the whole person, the human spirit. A focus only on "the mind" does not adequately address the human questions that so many have. We need ministries and programs in which people can become engaged, in which they have the opportunity to dialogue with others.
Many parishes offer the catechumenate for those seeking membership in the church in a way that engages the whole person and helps catechumens and inquirers to discover the vital role that faith can have in their lives. Small faith communities, groups gathered to reflect on the Gospel and the role of faith and other kinds of small-group settings offer people an opportunity to have conversations about what faith means in their lives. Awakening Faith, for example, is designed to help people re-connect with the faith in a way that leads them to a relationship with Christ. While one-sided presentations of the faith may have value, they will not frequently engage or appeal to those who are most in need of a renewal of faith. What methods will best re-waken faith in others? They are those methods that open a path towards dialogue and conversation.