Trust: Reviewing the Fundamentals
by Fr. Tom Ryan CSP
This is the season of the year when in high school and college football we always knew there

was going to be a review of the fundamentals of the game like blocking and tackling before we could move to some of the more sophisticated plays and formations. Our relational lives are like that, too, I find. There is benefit in regularly going back and reviewing our execution of the fundamentals.
One of them is trust. In a Reconciliation and Unity study pilgrimage I co-led this past June, one of the people we met with in Northern Ireland was a priest who has been very involved with the work for peace there, Fr. Crilly, pastor of the parish of St. Eugene in Portglenone.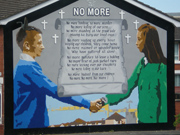 No more bombing, no more murder,
No more killing of our sons,
No more standing at the grave side
Having to bury our loved ones.
No more waiting up every hour
Hoping our children will come home;
No more maimed or wounded people
Who have suffered all alone.
No more minutes to leave a building,
No more fear of just parked cars;
No more looking over our shoulders,
No more killing in our bars.
No more hatred from our children,
No more, no more, no more!
He related how the events of Bloody Sunday in 1972 blew trust out of the water, and animosities reached new heights. Both Irish Republican Army members and British loyalist activists were arrested and treated as prisoners of war. In protest, they wouldn't wear prison clothes. Instead, they wrapped themselves in blankets and, in a later escalation of tension, smeared excrement on the walls of cells.
A final escalation was a hunger strike. The prisoners didn't want to die, but they had convictions and were prepared to stick it out. "The things that were granted in the end," Fr. Crilly said, "could have been granted at the outset, and the deaths avoided. But there was no trust."
He related how when a Catholic group went to visit the prisoners, the very fact that they were all Catholics evoked provocative behavior from guards and prisoners alike, including the Irish republican prisoners who knew the Catholic Church was against the IRA's violent methods.
But when representatives from the Irish Council of Churches and the Catholic Church went into the prisons together, it was a totally different experience, a rising graph of trust. Everything was thrown open, and they were given access to prisoners on both sides. In their exploration of the conditions in the prisons and communication with both prisoners and guards, there was honesty and respect.
"When we went in as an interchurch group," Fr. Crilly said, "people didn't see me as representing the power block of the Roman Catholic Church. Those inside the prison were able to better hear what we were saying. The medium was the message. In the very composition of our group, we represented the kind of reconciliation we wanted to promote among the prisoners. We modeled the respect for each other we wanted them to demonstrate toward one another. All the structures can be in place," he reflected, "but if there is no trust, nothing will happen."
We also met with the Peace and Reconciliation Group (PRG) in Derry/Londonderry, a community relations organization that was set up in 1976 to address practical ways to work towards understanding and reconciliation in the context of the conflict in Northern Ireland. Throughout its history, PRG has used a variety of diverse programs to enable people to build bridges between communities that have been polarized by historical and political events (www.peaceprg.co.uk).
One initiative of PRG are courses which offer alternative ways of dealing with conflict; build cross-border relationships and confidence between individuals; and create opportunities for people to meet and talk about how to deal with the past and help shape the future.
One of these programs is called Family Respite Holidays. It provides families from throughout the Derry/Londonderry area with an opportunity to relax and spend time together away from their daily stresses and pressures. A team of trained staff and volunteers are on site at all times. Through their indoor and outdoor activities in beautiful surroundings, the adults and children are able to get to know one another and come to a better understanding of their diverse cultures.
The place that hosts the families for these respite holidays is Corrymeela, a community founded in 1965 to promote reconciliation and peace-building through the healing of social, religious and political divisions. Corrymeela's vision of Christian community and reconciliation is expressed through a commitment to promoting interaction between and building positive relationships among all kinds of people. The community currently has a 150 members and over 5,000 friends and supporters throughout the world (www.corrymeela.org).
The family respite holidays' approach reminds me of some valuable advice given to me by a veteran ecumenist when I was still a student in theology. "Before you try to talk theology or politics with others," he said, "just spend some time creating a relationship."
He knew the importance of trust.