Conversations About Faith
by Fr. Tony Krisak

"I do not know enough about the Catholic faith to invite someone to consider it." This fear seems to prohibit many Catholics from sharing their faith with others or inviting people into conversations about what faith means in our lives. Behind the fear seems to be an assumption that to talk about faith we need to know and understand all the teachings of the Church and we need to be able to explain at least all of the statements in the Creed we profess each Sunday. But conversations about the faith do not have to involve teaching others or convincing them of the "truthfulness" of our church dogmas and moral prescriptions. Rather conversations about faith involve entering into a dynamic mystery that draws us into a unique relationship.
In this dynamic relationship we find God addressing us through Christ. Pope Benedict XVI recently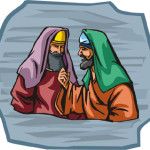 established a pontifical council whose focus is to be a renewed evangelization. This "renewed evangelization" is aimed at people who have heard the message of faith, but for some reason have drifted away or lost the connection. This is an evangelization that "re-proposes" the faith in a way people can see and experience how the Good News of Christ is a life-giving and life-changing experience that can ground and center our lives, that can respond compassionately to the tensions and struggles we experience in the world, and that can open our eyes to recognize that the reign of God is truly in our midst.
These suggestions may be helpful, both for individual reflection and for engaging others in conversation.
Listen with the heart. Whenever we encounter a text of scripture, a sacramental symbol or gesture, a work of religious art, a hymn or song of praise, we are coming into touch with the voice of God speaking to us in a personal way. If the first question we ask is "What does this mean?" we end up in this encounter trying to search for the right answer or the correct decision to make about something.  Since this is about being in a relationship, a more fitting question is "How does this (scripture, symbol, piece of art, etc.) speak to me?" "What is the appeal?" "What makes me want to explore this further?" Sometimes we might even ask what frightens or challenges about this symbol, word, etc.
God's Word is rich in meaning. The symbols we use as Catholics are likewise rich in meaning. And we can ask how they speak to us because each of us is drawn into this relationship with Christ in a unique way. The way a symbol or scriptural passages touches us becomes the entry point for further exploration as we enter into the mystery of God's presence and love.
Speak from the heart. A conversation about faith is a conversation about friendship (a relationship) with Christ. In our human relationships, we all "share" friendships with other people, but no two of us relates to one person in the same way. Faith conversations benefit when we speak in the first person (I experience, I see, I understand, etc.) rather than in the second person (you should, you don't, etc.). Judgments that we make about what another person says or thinks can be replaced by questions that help the conversation to move forward, e.g., "Could you say a little bit more about that?"
Seek connections rather than definitions. When we look for the "right answer" to something or think we have to convince someone of a religious conviction, we tend to try and steer them toward a particular response. A more appropriate starting point is to discover how people connect with the symbols and words of faith. We might, for example, ask someone who is disconnected from the Church what they remember about their baptism, first communion, or going to church when they were young. Focus on how they recall being connected in some way, not on what the event was supposed to mean. From these initial reflections, we can move over time to an understanding of what these events mean, based on the experience that people had. When we speak about our own experiences (as opposed to telling people what they were supposed to experience), we offer another way of viewing something without coercing or manipulating the conversation.
Trust that the seeds of holiness have already been planted. When Therese Boucher speaks about reaching out to the families of children who are not going to church, she reminds us that all of these parents already have some connection with the faith, though it may be dormant or unexpressed. If we approach those who are inactive or disconnected as if they are heathens or sinners, we close off the conversation through our attitude (even if we think we are hiding it). Initial conversation about faith aim to re-awaken the seeds of faith that God has planted and to build upon those seeds so that they might blossom over time into a lived faith. In a situation like this, it is helpful to recall the parable of the mustard seed. From the tiniest expression of faith arising from the heart of a person can arise a bountiful and powerful tree.
Focus on dialogue rather than debate. Conversations about faith can expand our horizon of faith when we are open to what other people say and when we refrain from trying to convince them about a certain position or faith perspective. When we share faith,  we freely offer to others a way of looking at life that they might not yet have considered. We offer a new perspective, but we do it in a hospitable and invitational way. Sometimes we will learn that someone else is also speaking from faith, but they way they express it provides a new and refreshing way of seeing things. Debates about dogma and teachings are best saved for a later time.
Do not lose heart. The Spirit is the prime evangelizer, and we are the vessels through which the Spirit works. When someone does not seem to respond in the way we would like, we tend to think there is something wrong with us. Sometimes a person is simply not ready to give attention to the prompting of the Spirit or perhaps has difficulty in recognizing the obstacles that prevent hearing where the Spirit is leading. It takes time. Fr. Bob Rivers reminds us in his book, From Maintenance to Mission: Evangelization and the Revitalization of Catholic Parishes, that our aim is to be faithful in sharing our faith rather than successful in drawing people to faith.