Why We Celebrate Death and Life
by Martha Fernández-Sardina

"End of the year celebrations" begin earlier every year. Before summer swimsuits are put away, Halloween costumes and skeletons appear everywhere. And many seem obsessed with death.  Do they grasp the full meaning of life and death? Providentially, Catholics have several great reminders of what life and death are all about as we close the year, and we can use these to share the Faith with others.
October begins with the Feast Days of St. Therese of Lisieux (October 1) and St. Francis of Assisi (October 4) reminding us to live completely captivated by love of God and neighbor, while being ready to see God face to face when we pass from life through death to eternal life. This longing to see God is commemorated beautifully by Carmelites and Franciscans with the Transitus: a celebration of the transit or passage from earth to heaven, from good to best!
We begin November with two additional reminders of the purpose of live and death: to live like saints so as to enjoy one day the beatific vision, the vision of God! On the Solemnity of All Saints or All Hallows,

November 1, we celebrate the lives of all our brothers and sisters who have been hallowed, sanctified, made holy by God and their active cooperation. We celebrate the fact that "holiness is expected, possible, desirable, rewarding, and very necessary!" ("Holy, Lord! Me, A Saint?!" by Martha Fernández-Sardina) A not-so-subtle remembrance of death is held on the Memorial of All Souls or Día de los Muertos on November 2, calling to mind the truths pondered on Ash Wednesday: "Remember, man, that you are dust and to dust you shall return." Therefore, "Repent and believe the good news."
The "two-part celebration" of life and death on All Saints Day and on All Souls Day are an invitation to think about life on earth and life on high, to draw our attention to our final destination – which becomes a challenge when All Hallows or All Saints is obscured by the "celebration" of Hallows' Eve or Halloween with "rituals" bereft of any Christian transcendence, in a meaningless exaltation of death versus eternal life; and when the observance of All Souls fails to provide a sound catechesis regarding the mysteries of death and purgation observed with visits to cemeteries and Masses for the faithful departed and with "altares" decorated with photos and mementos of deceased friends and relatives.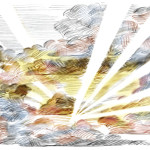 As Catholics we need not be embarrassed to share with the world what we believe about life and death and especially about the purification that happens in between. Scripture and Tradition assure us that nothing unholy can enter the New Jerusalem (Revelation 21:27), therefore, we must all "Strive for peace with everyone, and for that holiness without which no one will see the Lord" (Hebrews 12:14), heeding the Lord's words: "Be like servants who await their master's return from a wedding, ready to open immediately when he comes and knocks. Blessed are those servants whom the master finds vigilant on his arrival… Be prepared, for at an hour you do not expect, the Son of Man will come." (Luke 12:36-40)
Come, Lord Jesus!