Where Did All the Men Go?
 Handout provided by John M. Boucher of the Diocese of Trenton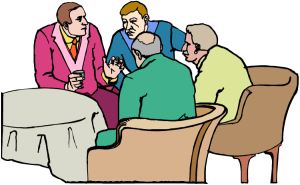 An ABC/ Beliefnet poll (February 2004) made a rather striking statement about Catholic participation at Sunday Mass. Women (49% weekly attendance) outnumber men (26% weekly attendance). This 2 to 1 ratio of women to men at church stirred a lot of concern at the time of the survey. It led many women and men who are regular church-goers to ask, "Where did all the men go?"
Since that time many have written about why men don't get involved in church, why men might hate church, or why some would rather get-a-root-canal than come to Sunday Mass. Some observers have also noted that Holy Name Societies, Knights of Columbus, Serra Clubs, and other Catholic men's groups, though once bulwarks of parish life, are watching their memberships age and dwindle. Others conclude that the average parish doesn't seem to have the capacity to start, sustain, and grow such groups, although new men-only groups are flourishing in some parishes. Beyond recommending these gender-specific groups, how do we draw men to participate in the average, less-than-perfect, Catholic parishes?
Download this handout
for six suggestions about what a parish might do to evangelize more Catholic men and for sharing questions in small community and ministry groups.