¡Somos católicos!
by Martha Fernández-Sardina

With these words, the Archbishop of San Antonio José H. Gómez has spoken to and about Latinos or Hispanics in the United States, when addressing the challenge of Hispanic ministry today and the question of why many Hispanic Catholics leave the Church of their birth.
True, not all Hispanics or Latinos are born Catholic. But the vast majority of Hispanics in the United States, Latin America, and the Spanish-speaking Caribbean are born and raised Catholic. Surely, with varying degrees of commitment to their Catholic roots, but nonetheless, they are Catholic. We are Catholic! So, as a joyful reminder and an energetic call to those among us who may forget the richness of our heritage amidst pressures of various kinds, the Archbishop says: ¡Somos católicos! The call is a call to know, love, and hold fast to the Faith that has come to us from the Apostles; a call to grow in knowledge and love of Jesus Christ, which is the title and topic of his first Pastoral Letter issued on February 15, 2006.
You are Latino leaders for a reason… God's reasons
This call, to remember who we are, is one that this prominent Latino leader–named one of Time magazine's and CNN's most influential Hispanics– has made to Catholic men and women of varied backgrounds, positions, and responsibilities. "¡Somos católicos!" he said last year in Boston, adding: "That means embracing the fullness of our heritage as Hispanic Catholics." (La predicación y la enseñanza: Evangelization, Education, and the Hispanic Catholic Future.Address at the National Symposium on the Present and Future of Catholic Hispanic Ministry in the United States: The Most Rev. José H. Gomez, S.T.D., Archbishop of San Antonio, Chairman, U.S. Bishops' Committee on Cultural Diversity – Boston College, June 8, 2009,)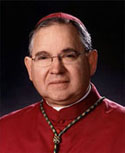 Already in 2007, the Archbishop, who is known for his commitment to Hispanics in the United States and abroad, exhorted a group of Latino leaders with these words: "I urge you friends: Do not forget where you came from or who you are! Do not forget Jesus. Do not forget the Church. You need to celebrate your identity and your heritage. Not run away from it or hide it. You are Latino leaders for a reason. God's reasons. To help lead the spiritual rejuvenation of America. Through your work, your personal witness, and your faith." (To Be Leaders for a New Latino Generation: Address to the Catholic Latino Leaders Conference: The Most Rev. José H. Gomez, S.T.D., St. Malo, Colorado – September 8, 2007)
In his recent and third Pastoral Letter on evangelization, Archbishop Gómez says that he is "deeply concerned that growing numbers of our Hispanic brothers and sisters are in danger of drifting from the Catholic faith to other religions or to no religion at all." He is concerned "that Hispanics' Catholicism not simply become a kind of cultural background, a personality trait, a part of their upbringing that shapes their perspective on the world but compels no allegiance or devotion to the Church." Addressing his fellow Latino Catholics he adds: "So I issue this appeal directly to my Hispanic brothers and sisters: My friends, as you become more and more successful, more and more a part of the American mainstream, you must continue to keep your faith. Do not allow yourselves to drift away from the true faith of our mothers and fathers. You must keep a strong relationship to the Catholic Church and to our Mother, Our Lady of Guadalupe. ¡Somos católicos! This is who you are. Christ needs you and his Church needs you for the new evangelization of this land." (You Will Be My Witnesses:A Pastoral Letter to the People of God of San Antonio on the Christian Mission to Evangelize and Proclaim Jesus Christ, The Most Reverend José H. Gómez, S.T.D., Archbishop of San Antonio – February 15, 2010)
"Today It Is Your Turn" 
Evangelization remains for all of us a joyful yet challenging mission, regardless of our ethnic background or that of the people we want to help remain Catholic, and we wish to invite and welcome into our amidst. There are numerous ways to reach people, including Hispanics. It requires effort, openness, and genuine interest in the well-being of others. As Archbishop Gómez says in You Will Be My Witnesses: "The task before all of us is to find new ways to evangelize the Hispanic population, which has always been a people of strong Catholic faith and identity, a people of prayer with deep values of family, friendship, and the culture of life. We must reevaluate our ministries and our approach. This is not only a matter of effective pastoral programs, it is also a matter of personal witness and charitable assistance, especially to families and children. In our mission to Hispanic immigrants, we need to be mindful that our work is part of a continental mission—to spread the faith not only here in America but throughout Latin America and the Caribbean. Let us purify our aims and means in light of the Gospel to ensure that in everything we do for these new Americans we bring them to an encuentro, the encounter with Christ, "who has filled our lives with 'meaning,' truth and love, joy and hope!" (See Fifth General Conference of the Bishops of Latin American and the Caribbean: Concluding Document, Aparecida, Brazil, 548: May 13-31, 2007; also U.S. Bishop, Encuentro and Mission.)
In the Archdiocese of San Antonio we are heeding the call to evangelize and catechize people of all ethnic backgrounds, ages, and spiritualities –including Latinos/Hispanics– in a variety of ways, including programming in Spanish and English on Guadalupe Radio Network and Catholic Television of San Antonio; Spanish and English articles in Today's Catholic, a bilingual forty-day New Testament Listening Program called "You've Got the Time"; retreats in both languages, including Cursillos, ACTS, and other weekend retreats; bilingual marriage preparation classes and a wide variety of parish-based evangelization, catechesis, and faith formation classes, Bible Studies, and programs; as well groups, classes, training seminars, and conferences offered by various lay ecclesial movements and outreach ministries, including Escuela de la Fe, Catholic Charismatic Renewal, Escuela de Evangelización San Andrés, and the Christian Life Movement, among others. The local chapter of C.A.L.L. –the Catholic Association of Latino Leaders– meets regularly and, alongside its national fellow members, is involved in the evangelization of culture, addressing issues relevant to Hispanics at the local and national levels. In many and varied ways we continue to facilitate processes by which Hispanic Catholics –and all Catholics– become enthused about their faith, invite others to know Christ in His Church, and transform society with Gospel values, in fulfillment of Goals I, II, and III of Go and Make Disciples: A National Plan and Strategy for Catholic Evangelization in the United States (USCCB, 1992.)
In San Antonio and beyond, we invite all Latinos or Hispanics, be they American-born or immigrants, affluent or not, fluent English-speakers or primarily Spanish-speaking, to step up to the plate and take their place in the important mission of evangelizing and re-evangelizing their peers. We echo the words of the great pilgrim pope of evangelization, Pope John Paul II, to Latinos during his visit to San Antonio in 1997: "Today it is your turn to be evangelizers of each other and of all those whose faith is weak or who have not yet given themselves to the Lord. May you be no less zealous in evangelization and in Christian service than your forbearers!" (His Holiness Pope John Paul II, Address to the Spanish-Speaking Community at Our Lady of Guadalupe Plaza, San Antonio – September 13, 1987)
Martha Fernández-Sardina is the Director of the Office for Evangelization of the Archdiocese of San Antonio, and a national bilingual speaker, trainer, ministry consultant, and translator. She hosts a TV show and a radio show, authors a column, and blogs periodically (www.archsa.org/Evangelization).