by Frank DeSiano, CSP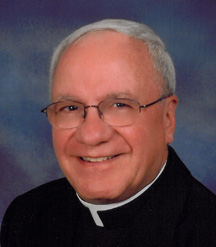 I was making a presentation in a fairly Catholic area of the mid-West not too long ago.  It was my standard review of Catholic evangelization.  People were smiling through most of the presentation, but I did notice one face that was almost scowling, or at least deeply puzzled.  As I probed a little deeper, I discovered that several people at the meeting had trouble with the word conversion.
But conversion is at the heart of our Catholic approach to evangelization.  "The Church evangelizes when she seeks to convert. . ." Paul IV said.  "Evangelization is seeking to convert . . ." as the language of the US Bishops suggested.  What's the problem with conversion?
To several folks present, the word smacked of manipulation, of shoving ideas onto another person, of being pushy.  Of course, few of us Catholics ever think of behaving this way.  Nevertheless, people think of evangelization and conversion in these fairly negative ways.
So is conversion a dirty word?  Are we reluctant to talk conversion language?  Do we even think we should be calling people to conversion?
Naturally, when we talk of calling Catholics to conversion, no one flinches.  (That's how much we instinctually think Catholics are not converted; what does that say about us?)  But calling seekers to conversion?  Calling people to the Catholic faith, or, more precisely, to Jesus in our Catholic community?
After we debug the word of all the connotations that make us Catholics recoil, I think we still have some work to do.  We still have to push through to another idea: Catholicism is the most marvelous expression of discipleship, of following Christ, of fullness, of the universal scope of the Kingdom.
Should we not be more hyped to invite seekers to experience it?  To invite seekers to conversion? How many of us find the same reluctance?  What do we think is behind it?

Fr. Frank DeSiano is the President of the Paulist National Catholic Evangelization Association.