Handout: Getting a Grip on Parish Evangelization
by John and Therese Boucher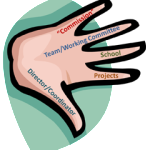 "Christ has no body now on earth but yours, no hands but yours… and yours are the hands by which He is to
bless us now." (St. Teresa of Avila) The human hand is an amazing gift. By one count, there are 29 bones in the hand, 34 muscles (just to move the fingers and thumb), 48 named nerves, and 30 named arteries. It takes ¼ of the human brain just to run our hands alone. If the fingers and thumb of our hand are not working correctly, it is difficult to write our name, pick up a piece of paper, type on a keyboard, button or zip a coat, or softly touch a loved one. Sir Isaac Newton observed, "In the absence of any other proof, the thumb alone would convince me of God's existence."
An appreciation of how the hand works can help us get a better grip on evangelization.
Download the handout and learn about the five fingers of parish evangelization.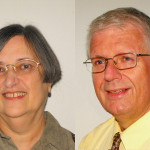 John Boucher is a regular contributor to Evangelization Exchange. He serves as the Director of Evangelization and Parish Development for the Diocese of Trenton. Therese Boucher, of the Diocese of Trenton, is a leader in catechetics and evangelization, especially in ministering to families and training other leaders.