Awakening Faith across the Atlantic
by Sharon M Beech BA(Hons), MA
On September 16, 2010, the Catholics of England, Scotland & Wales experienced an unexpected 'Awakening'. The State visit of His Holiness Pope Benedict XVI has to be the single most 'evangelistic' event in the recent history of Catholicism in the UK. Despite the apparent initial lack of enthusiasm for the visit and the constant negative press coverage, it did not take long for the faithful to realize that the Pope's visit was indeed for a purpose. As it was, Pope Benedict helped the Catholic community of Britain to come out from behind their blinds and say once again: 'We know we have had problems, we take collective responsibility for the wrongs committed, we are dealing with these wrongs, and the healing must begin. We are Catholic, and we are proud of it.'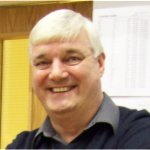 Fortunately, both Fr. Paul Cannon, Head of the Salford Diocese Department for Evangelisation (pictured on the right), and I (as the Project Development Coordinator), had decided to be pro-active and have in place something that the clergy in the diocese could have available should the Pope's visit awaken something in both Catholics and non-Catholic enquirers alike. As it was, the Pope's visit reinforced everything we in the Department strive to do and for us it 'ticked all the boxes.' With every homily, Pope Benedict emphasised the 're-evangelisation' for which his predecessor John Paul II had called. For us, therefore, the first port of call was PNCEA. Having taken various PNCEA online courses ourselves, we knew right away that the quality of the courses offered by PNCEA would be just what we would want for our diocese. We found these in the programmes Awakening Faith and Seeking Christ.
We were not disappointed! Prior to the papal visit, after putting in place designated phone numbers and e-mail address, we secured airtime on local radio stations and set about telling the people of Manchester, Salford, and Lancashire about the great new resources we had in place should they feel that the Pope's visit had awakened something in them. It could be that they had been away from a regular practice of the faith, or indeed, if they just wanted to know more about the Catholic faith.
Not just being happy to let people come to us, our next task was to set in motion the process of rolling out the programmes to the clergy and people of the diocese. After becoming familiar with both programmes, we held two meetings, one in the north of the diocese and one in the centre. We then invited the priests, plus 2 representatives from their parishes, to come along and hear all about the programmes as well as giving them advice on how they could implement them in their parishes.
The response has been very good with over one third of the parishes being represented and with the programmes being very well received. The fact that they are short weekly programmes means that they are not too daunting for someone whose last experience of church was not a good one, or who is unfamiliar with a formal religious practice. So far we have had thirty-five parishes that have shown an interest in the programmes. Several have already ordered the needed materials and we expect the number of participating parishes to increase.
We feel very grateful for the work of PNCEA and believe there is no need to waste time devising our own programmes when the Paulists do it infinitely better than we could.  In other words, 'Why re-invent the wheel?'