Conversion: Where is Our Passion
by Frank DeSiano, CSP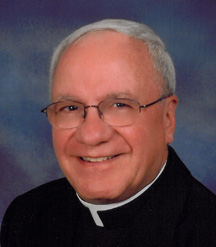 My gut feeling is that when it comes to inviting people to become Catholic we generally fizzle. Oh sure, we're all aglow at the Easter Vigil as catechumens and candidates are received into the Church. Our diocesan papers boast of the thousands who are becoming Catholic.
But, when we are less dazzled, we come to realize that the thousands whom the Spirit gives us at the Easter Vigil is an incredibly tiny percentage. And, even more, for the thousands who join at Easter, how many tens of thousands have either left the Church or have begun drifting away?
This is where our commitment to mission comes in. Where is our passion? Where is our burning desire to help people relate to God more fully and deeply as Catholics? Or have we lost some of the salt that Jesus talked about? Has our taste for the Catholic faith grown insipid?
Even though huge changes have taken place in the past half-century, even though some of the cultural glue that held Catholics together in the past has lost its stickiness, our basic temptation is to take our faith for granted. Too many think of our faith the way we think of an old piece of furniture—something that's always there and never alluded to.
Mission needs passion. Passion needs investment. Investment means seeing values—us seeing more clearly the value of our faith and, therefore, us having a lot more zest when it comes to telling people about our faith.
Are we anemic when it comes to inviting people to conversion? What might put more iron in our blood?
Fr. Frank DeSiano is the President of the Paulist National Catholic Evangelization Association.